Watch Video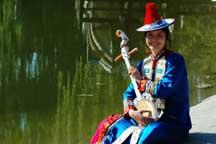 Play Video
The Swan Zither is a traditional instrument of the Yugu ethnic group in Gansu Province. And now, after hundreds of years without being heard and six years of scholarly work, the legendary instrument has a new voice.
According to scholars of the Yugu ethnic group in Northwest China's Gansu Province, the Swan Zither was never merely a legend. But about 4 hundred years ago, this traditional instrument disappeared during the migration process of the Yugu people to the East China.
In recent years, the Swan Zither has been frequently seen as a stage prop', appearing in dance and singing shows, but it wasn't a true instrument that could be played. Therefore, doing research about the Swan Zither became an focus for scholars and folk researchers.
After 6 years' hard work, a functional Swan Zither has finally been created according to the research. And the Yugu people have picked up their traditional instrument, which is divided to different categories depending on the number of strings.
Besides the development of professional teams, the Swan Zither will also be taught to younger musicians, helping them to understand and learn more about it.
Editor:Liu Fang |Source: CNTV.CN