Watch Video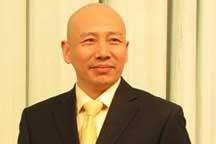 Play Video
Peking Opera is a synthesis of speech, song, dance and combat. It's known as the national opera of China, and is regarded by many as the most refined form of opera in the world. It features four main types of performers, one of which is Jing, the painted face male role. Meng Guanglu is a Jing performer with the Tianjin Youth Peking Opera Troupe. He stands out among the younger generation for his penetrating voice and creative mind. Today, we step into the world of Meng Guanglu, and share his stories both on the off stage.
Meng Guanglu has performed the aria "Five Dragons Subdued" countless times. And it never fails to won applause from the audience.
An audience member said, "He boasts a genuine Qiu School voice, and he reaches the high-pitched notes with ease and grace. Professionally we call it 'Sound from the Back of the Head."
"His art is quite innovative, making it possible to attract an audience of the younger generation. He's inherited and carried forward the fine opera traditions," said an audience member.
"He approaches each show with the same earnest attitude. So I think he's an outstanding Peking Opera artist of the younger generation," said an audience member.
Meng Guanglu said, "I've performed in Beijing for more than two decades. Over the years I've developed a deep feeling for the Beijing audience. I'm greatly honored by the recognition and support given me by the audience in Beijing and across the country. So I treat each of my shows, no matter how many times I've performed, just like my debut."
"Five Dragons Subdued" is a signature piece from the Qiu School,founded by late master Qiu Shengrong. Qiu was famous for portraying Jing--the painted face, male roles.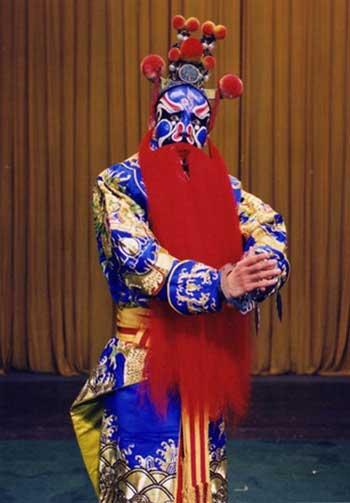 Meng Guanglu plays at "Five Dragons Subdued"
And Meng Guanglu is a worthy successor. His powerful penetrating voice allows him to handle his roles with ease and grace.
Meng said, "The beauty of Peking Opera can be sensed in a split second. Your emotions for your role each time might be different. Performances are somewhat fixed. But the creativity behind each role varies."
Jing is one of the four types of roles in Peking Opera, along with Sheng, Dan, and Chou.
Peking Opera was born when the "Four Great Anhui Troupes" came to Beijing in 1790.
It was originally staged for the royal family but is popular with people of all walks of life.
It's not monolithic, but rather a coalescence of many opera forms from across the country.
Performers must master four skills: song, speech, dance-acting, and combat, which includes both acrobatics and fighting with all manner of weaponry.