Watch Video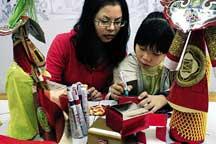 Play Video
The Chinese, along with many other nationalities in far eastern countries, celebrated their traditional Mid-Autumn Festival on Monday. Also called the Moon Festival, the holiday is celebrated much like Thanksgiving is in the United States.
This year September 12th is the 15th day of the 8th month, according to the Chinese lunar calendar, and it's also the full moon.
The Mid-Autumn Festival is associated with the legend of Houyi and his wife Chang E, the Moon Goddess of Immortality who lives on the moon.
The days around the full moon are set for families and friends to get together - traditionally to celebrate the harvest.
It's an important day for all family members to gather together.
Yang Jian, lantern festival visitor, said, "The Mid-Autumn Festival is mostly about gathering together as family and friends. Together we can be festive and look up at the moon, and today we are here to see this traditional lantern festival."
The Moon Festival became a holiday observed in large parts of China about 1,000 years ago, according to folklore experts, but it has remained largely a family holiday - a time to eat and drink and look at the moon together.
Editor:Liu Fang |Source: CNTV.CN