Watch Video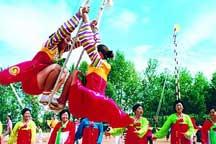 Play Video
If you remember playing on a swing set when you were young, then you might find this swinging competition a bit interesting. The event is held near the northern border of China in Yanbian, the ethnic Korean autonomic region in Jilin Province.
Kunettwigi is an outdoor Korean folk game where you stand on a swing, called a kune, that is suspended by long ropes from a tall frame or tree branch.
The kune is some 12 meters high with a 30-centimeter wide step, and it hangs down by 8-meter ropes. As participants swing up, they reach tremendous heights and get a spectacular view. Some people can get the swing parallel to the horizon. The contestant to first reach a copper bell tied at the top wins. But there's one catch. You have to be a girl to play.
Jin Hufeng, Yanbian Sports Bureau, said, "Swinging dates back to ethnic groups in northern China and has been particularly favored by Korean people. In ancient times, women were confined within the walls of their family. So they played on swings, reaching high enough to peek over the wall to the outside world. Over time, the game became popular with every household."
In Korea ethnic regions, swings are spotted everywhere when festivals and activities are held. Girls in their traditional colorful dresses are often seen on the swings creating lovely picture.
Related stories
Editor:Liu Fang |Source: CNTV.CN