Watch Video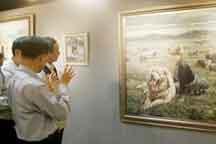 Play Video
A new painting exhibition is being held in the Cultural Palace of Nationalities in Beijing. All paintings in this exhibition are by the Sichuan artist, Lin Yue -- only one of the outstanding artists from the Ba-Shu school of painting.
This exclusive painting exhibition is dedicated to the life of Tibetan mastiffs. Local residents in Tibet and Sichuan treat this brave creature as their loyal friends. And Lin Yue is regarded as China's best painter who spent most of his time painting the animal.
The series of hundreds of paintings reflect not only the friendship that connects local people and mastiffs, but also the harmonious relationship between humans and wildlife.
Wang Zhong, vice chairman of Chinese Artists Association, said, "The series pays respect to nature and wildlife by capturing the unnoticed, but emotional moments in life. It's a unique angle, and it shows the beauty of life and humanity."
Lin Yue is only one example of the outstanding painters from Sichuan. Inspired by the ancient names of the region, they call themselves "Ba-Shu School" painters. The Sichuan provincial government saw the dynamics of these artists and decided to support them as a major part of the province's masterplan to develop its cultural industry.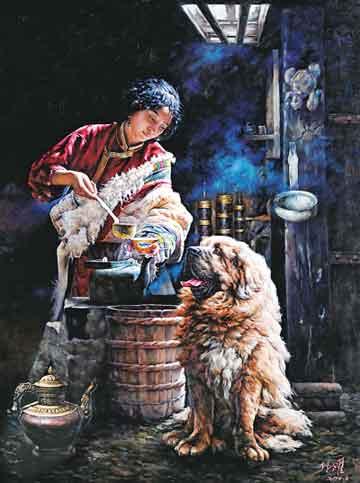 Work of Lin Yue
Lin Yue said, "I held this painting exhibition twice in Chengdu, but that doesn't reach far enough. With help from the government, we painters from Sichuan are eagerly looking forward to introducing our works to people around the country."
Li Jie, editor-in-chief, "Ba-Shu school painting" Magazine, said, "We are currently building up an archive of Sichuan-based painters, ranging from those who have already made remarkable contributions, to promising youngsters who are willing to be challenged. Categories such as traditional Chinese paintings, oil paintings and calligraphy works are included."
The painting collective had its first exhibition outside Sichuan in May of this year in Beijing. Now they have established a collaboration with Art Expo Hong Kong to hold an annual exhibition there. Next year, they're planning to take the exhibition on the road to London.
Editor:Liu Fang |Source: CNTV.CN