Watch Video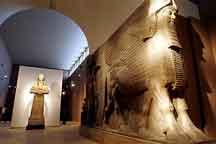 Play Video
After an 8-year closure, Iraq's National Museum is preparing to re-open to the public in November this year. The outbreak of war in 2003 led to the museum's closure as well as the looting of tens of thousands of relics. Now, some of those lost relics are about to be on display again.
Built in the 1920s, the museum is the earliest of its kind in Iraq with the richest collections. The museum consists of 18 exhibition halls which display the ancient civilizations of Tigris and Euphrates in chronological order.
The National Museum was looted at the beginning of the Iraq War. Even some cultural relics that were transferred into secret warehouses also suffered from theft, which led to the loss of more than 15 thousand pieces. Later with the great efforts of some departments, 5 thousand pieces have been recovered.
Qays Rasheed, director of Iraq Cultural Relics and Heritage Admin., said, "The missing pieces were all registered and we tried to retrieve them all. However, others stolen from other sites were not registered, which made for great difficulties in retrieving them back."
It is said the closure of National Museum affected the country's tourism. What's more, the poor security situation also kept tourists away.
Qays Rasheed said, "A more secure and stable political situation should contribute to tourism. This ancient heritage site actually was a great attraction. I hope the situation can be improved to welcome more tourists to Iraq."
Now the museum workers are checking lights, repainting the walls, and repairing the alarm system.
Some relics, unearthed in 2008 and 2009, will also make their debut.
Related stories
Editor:Liu Fang |Source: CNTV.CN