Watch Video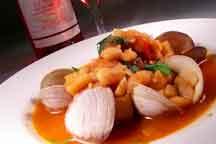 Play Video
Fine-dining establishments across France, including some that have earned Michelin stars, have slashed their prices for a week starting Monday. The campaign aims to rid gourmet cuisine of its stuffy, pretentious image.
The project's name is translated "Everyone to the Restaurant" and is the brainchild of Alain Ducasse, the French-born celebrity chef who boasts 19 Michelin stars of his own.
From September 19th to 25th, restaurants such as French chef Gilles Epie's "Citrus" restaurant will offer two gastronomic menus for the price of one, in hopes that the familiar "two-for-one" formula will attract more cash-conscious and mainstream clients.
And it worked. When reservations opened a week ago, the staff at Citrus had to deal with hundreds of calls. Two hours later the restaurant had sold-out all of their tables for the week.
Madeleine Boblet, customer, said, "I think it is a very good campaign for people who don't always have the means to go to exclusive restaurants in order to discover them and discover renowned chefs too."
Pierre-henri Brana, customer, said, "Since it's my father's birthday, I made the most of the offer by trying to find a restaurant to invite him to in which we wouldn't normally eat, and so here we are."
On Monday, Epie's team offered a mouth-watering menu. The Michelin-starred chef criticized the tendency for the French to prefer eating fast food rather than to save money for an occasional night out in a gastronomic restaurant.
Gilles Epie, Michelin-starred chef, said, "Actually you know, the thing is, it's expensive to eat well in France, it's expensive to eat well all over the world but the products we are using at this kind of level are really expensive. When it is good it is never expensive enough. When it is bad it's always too expensive, no matter what."
In the first run of "Everyone to the Restaurant" last year, 82-thousand diners crammed into the available spaces at the one-thousand participating restaurants.
Editor:Liu Fang |Source: CNTV.CN