Watch Video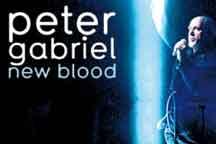 Play Video
Legendary British singer Peter Gabriel puts a classical spin on his rock hits. In his latest release, "New Blood", he continues to push the boundaries of music with a full-orchestra arrangement.
The new CD comes as a successor of his last release in 2010, "Scratch My Back", which was orchestral covers of a wide variety of songs. In order to complete a repertoire for a full concert with the orchestra, Gabriel re-recorded various tracks from throughout his own career this time.
Peter Gabriel said, "When we started doing these arrangements I got really quite excited and we made some rules like - no guitars, no drum kit and very sparse at times, but it was all working so I thought let's do a record and then someone got enthusiastic and offered us a 3D film, so now we got the whole box set."
The 61-year-old singer said performing his classic hits with a 46-piece orchestra is exciting. While the new CD stays clear of some of his most well-known hits such as "Sledgehammer" and "Big Time", it does feature the 1986 hit "In Your Eyes," made famous by the U.S. movie "Say Anything."
Peter Gabriel said, "I felt like I was an interpreter of existing songs that happened to be mine, rather than just doing the songs again. It was really a sense of reinvention and a bit scary. It's got a very different approach now with this orchestra version and we tend to do it as an encore. And I think after 'Say Anything' it sort of became part of culture over here."
After logging over 44 years in the music industry, the respected musician has made great accomplishments such as coordinating the charity concert "Live 8" and world music project "WOMAD."
As he's returning to his own identity as a recording artist, the 12-track new album will soon hit stores in October in various formats, including deluxe double-CD edition and vinyl.
Editor:Liu Fang |Source: CNTV.CN