Watch Video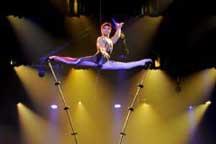 Play Video
The China Wuqiao Acrobatic Art Festival has lowered its curtain, culminating with the unveiling of the event's top honor "Golden Lion".
And apparently, the jury must have had a difficult choice to make, for this year the award is to be shared by China, the Democratic People's Republic of Korea and Russia. Let's see some of their spectacular performances.
"Flying Trapeze", the thrilling "Somersalt in the Air" performance brought by delegates from the DPRK kept the audience on the edge of their seats. It also secured the troupe a "golden lion."
Sharing the golden lion is "Springboard" from Russia, also a repertoire piece from the country. It was delivered in impeccable fashion.
Acrobats from China's Hebei Province won over both the critics and the audience to win another golden lion, with their circus act on bicycles. The acrobats combine handstands, somersalts and a highly coordinated team work, in a constant effort to renew their bicycle routine with new tricks.
Although all the winners are repertory pieces, they had all been freshened up with new arrangements and new challenges for the performers. The audiences were simply left in awe.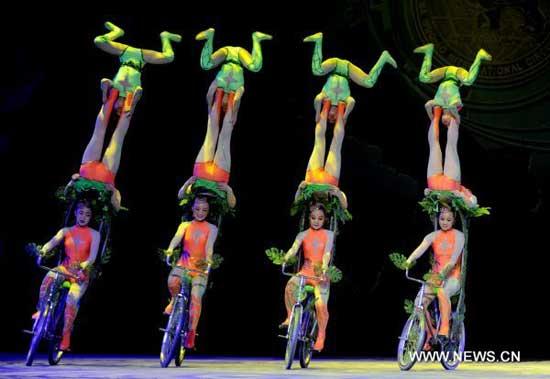 Actresses from north China's Hebei provincial acrobatic troupe perform during the closing ceremony of the 13th Wuqiao International Acrobatics Art Festival of China in Shijiazhuang, capital of north China's Hebei Province, Oct. 30, 2011. More than 200 acrobats from 17 countries and regions attended the festival, which ended here on Sunday. (Xinhua/Yang Shiyao)
An audience member said, "In the past, acrobatics were simply about skills, now they incorporate dance and other elements. So it's more fun to watch."
Performers keep challenging themselves to reach new heights. The Head of the DPRK delegation says, their program is more difficult then ever, because of the larger scale in width and height."
This year's golden lion award winners were selected from thirty programs submitted from seventeen countries and regions.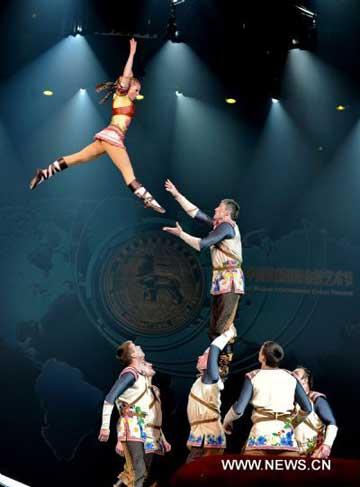 Russian actors perform acrobatics during the closing ceremony
of the 13th Wuqiao International Acrobatics Art Festival of
China in Shijiazhuang, capital of north China's Hebei Province,
Oct. 30, 2011. More than 200 acrobats from 17 countries and
regions attended the festival, which ended here on Sunday.
(Xinhua/Yang Shiyao)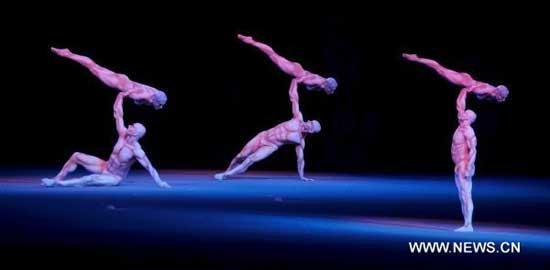 A multi-exposure photo taken on Oct. 30, 2011 shows Canadian actors performing acrobatics during the closing ceremony of the 13th Wuqiao International Acrobatics Art Festival of China in Shijiazhuang, capital of north China's Hebei Province. More than 200 acrobats from 17 countries and regions attended the festival, which ended here on Sunday. (Xinhua/Yang Shiyao)