Watch Video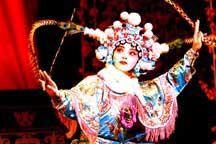 Play Video
Chinese traditional operas are thought to hold the essence of Chinese culture. For hundreds of years, they have enjoyed a solid fan base among the masses.
But in modern times, the refined art seems no longer to enjoy its former glory and is gradually disappearing from public view.
Now the industry practitioners have joined hands in re-consolidating the industry through cultural reforms, attempting to bring Chinese folk arts more in tune with the fast-changing society.
Peking Opera artists from Beijing have mingled with thousands of college students and their teachers for a well received stage performance in Northwest China's Shaanxi Province. The professionals met with enthusiastic response from the packed house, as artists on stage juggled an arsenal of weapons portraying the Monkey King and his entourage in a combat with their arch rivals.
Thanks to the efforts of the industry practitioners, people of the younger generation have more and more opportunities to enjoy the Chinese traditional art at a close range.
Li Shengsu, Peking Opera artist, said, "I think traditional Chinese operas are very welcomed by the college students. I'm not saying they totally understand the art form, I'm saying they had few chances to go into the theater to sit tight for an opera show. We provide them chances to enjoy well known pieces, like 'The Monkey King,' a way to broaden their opera knowledge."
Yu Kuizhi, deputy director of China National Peking Opera Company, said, "We hope that through our efforts, our younger generation will begin to appreciate the traditional art and folk culture. As an industry practitioner, I feel I'm obliged to cultivate more young talents, and create more new productions."
Apart from Peking Opera, the more than 3-hundred different genres of folk operas around the country are all starting to get themselves going again. Take the Zhejiang Hundred Flower Opera Troupe for example.
The art group has recently staged their newly-created show at the National Center for the Performing Arts. The piece revolves around a romance that happened centuries ago at Tian Yi Ge, the oldest existing Asian library.
Mao Weitao, director of Zhejiang Hundred Flower Opera Troupe, said, "We should never make our audience feel that traditional operas are outdated. We should stick to innovation, a key to keeping the ancient art form alive. This is what I've been advocating for years. And only in this way can we revitalize our art and popularize it nationwide."
Mao adds that their efforts are paying off. Through the collaborations with privately-funded art troupes, their pieces are coming out one by one to cater to the tastes of modern day viewers. Hardcore fans follow artists wherever they perform, which encourages the professionals to work harder for the art they adore.
Editor:Liu Fang |Source: CNTV.CN