Watch Video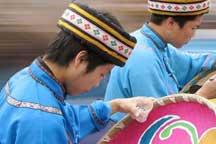 Play Video
China's fifty-six ethnic minorities provide us with an endless variety of cultural stories. This next one comes from the Buyi Minority of southwest China's Guizhou Province. Today, we want to introduce you to the folk-craft of sifter painting developed by the Buyi people.
Originating in Buyi County of Guizhou Province, sifter painting emerges along with the popularity of a kind of local food--glutinous rice cakes. Back in ancient times, people made these cakes into different shapes before wraping them with natural pigment. When the cakes were gone, the color lingered on with kaleidoscopic patterns, forming a primitive sifter painting.
Now, delicate sifter paintings are everywhere to be seen in Xinpu Village. Over 70 percent of the 300 local residents are skilled in this craft. It all starts with the selection of a fine sifter.
Luo Yuanli, master worker, said, "Normally, the sifter bought in the market is too coarse to draw. Brush won't go smoothly and painting inside the sifter requires really delicate work."
The Buyi experts say, the size of the sifter should take into consideration the subject and content of the painting. Drawing inside the sifter differs greatly from that on a piece of paper. The tough texture of the bamboo makes the painting process difficult and slow, so one must also sketch the outline of a work beforehand.
Luo Yuanli said, "It takes three to four hours to complete a piece of work. The pigments we use are made of waterproof propylene, which is very thick."
When these folks are not busy with farm work, local people turn to sifter drawing. The craftworks serve not only as nice presents for friends, they also sell well in the market and have attracted many curious visitors. Through the vivid art form, visitors can feel a combination of tradition and beauty that directly comes from Buyi people's daily life.
Editor:Liu Fang |Source: CNTV.CN