Watch Video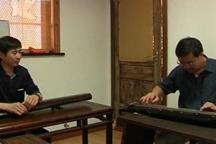 Play Video
Chinese doctors are looking to traditional music therapy to help ease modern day problems such as tinnitus -- a condition that causes a constant ringing in the ear. Chinese music therapy is slowly gaining ground as an alternative treatment to such hearing ailments, in the country's commercial center, Shanghai.
The therapy uses five notes from ancient Chinese music -- "Gong, Shang, Jiao, Zhi and Yu" -- which are each associated with the five basic elements of earth, metal, wood, fire and water.
The notes also correspond to the five main organs of the body, namely the spleen, lungs, liver, heart and kidney.
Chinese medicine has always advocated a holistic approach to treating patients -- and doctors are now looking to music therapy to not just reduce discomfort associated with tinnitus, but also treat energy imbalances inside the patient's body.
Dr. Li Ming, has been at the forefront of the research.
Li estimates that between 12 to 32 percent of people globally suffer from tinnitus.
Li says the causes of ear ringing are varied and sometimes psychological -- but music therapy can help ease the problem.
Dr. Li Ming said: "On top of existing musical therapy treatments, Chinese music therapy is targeted towards treating energy imbalances in our body which cause psychological discomfort. Through listening to the five ancient Chinese notes, we are looking at whether there are any problems with the five main organs."
Globally, doctors specialising in music therapy have often used sounds from nature, such as flowing water, singing birds, whale noises or wind.
Li also uses such sounds -- but he believes Chinese music therapy can do more, by treating the body as whole, rather than just treating individual symptoms.
54-year-old patient Hu Ping says although the music therapy has not fully cured tinnitus, she feels much better psychologically.
Hu Ping said: "I would not say music therapy directly influences my ear ringing. It's only giving you some music to your brain. We know it can never fully treat this problem. The main thing is still the psychological aspect. If you sort out the psychological problem, everything else doesn't matter."
Li says the treatment has varied effects on different patients and that the problem is difficult to alleviate completely.
Some patients might suffer from tinnitus for their whole lives -- but Li hopes Chinese music therapy will help move their focus away from the problem, and allow them to achieve a more stress free existence.
Related stories
Editor:Zhang Rui |Source: CNTV.CN