Watch Video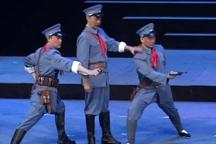 Play Video
The thriving performance industry in China has drawn attention to both traditional arts and modern arts. Representing the traditional branch, today we take a closer look at Yunnan Opera, and the Anhui Song and Dance troupe.
Yunnan Opera, or Dian Opera, is a special type of local opera that originates in Southwest China's Yunnan Province. Integrating elements from the various operas of the surrounding areas, this art form was very popular in Yunnan 200 years ago. The operatic tunes are resounding, mellow and full, and the stage props and characters are well developed.
Despite its strength in the past, its current state of decline is worrying to practitioners.... This drama featuring Marshal Zhu De's early years during the 1911 revolution is an attempt to revive the traditional art.
Next, Anhui Song and Dance troupe delves into its glorious operatic history for a new piece called "Hui Ban." The dance tells about the ups and downs of an opera troupe from Anhui struggling for survival in Beijing during the 1911 revolution. The creative minds behind the production are some most active choreographers across the country.
And ... Veteran singer Tu Honggang and Alan Tam are preparing for their upcoming concert here in the capital. Drama director Tian Qinxin will take the helm of Tu's concerts, blending in a lot of traditional Chinese culture elements into the program.
Editor:Zhang Rui |Source: CNTV.CN