Watch Video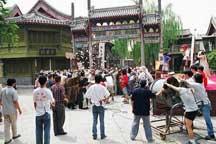 Play Video
A movie and television base is being established in Huairou District of Beijing's northern suburbs. It's one of the first ten culture innovative areas in the capital. The booming Chinese film industry has brought a great opportunity to the development of the zone, and the production base's ambitious goal is to become China's Movie Capital. The question is, is it possible?
The ancient culture park of A Dream of Red Mansions, with an investment of 1.5 billion RMB and two major building complexes... The Culture Innovative Industry Park of Journey to the West, with a total investment of 10 billion RMB, AND a Monkey King Kingdom Theme Park.... These are just two projects within Beijing Huairou Movie and TV Industry Zone. The zone has a core area and an annex area with a total central area of 5.6 square kilometers.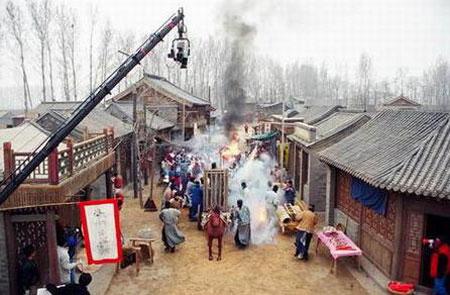 Huairou movie and television base
Over 300 enterprises have already been set up in the zone. It has broken through the bottleneck of monotonous traditional movie and TV bases. Relying on group development, the zone has linked companies together to create a complete movie and TV chain. It is organized to integrate and pool together copyrights, directors and producers and international technology providers.
Gao Jianjun, Deputy Director of China (Huairou) Movie and TV Industry Zone said "There will be nine functional centers, such as for movie shooting, post-production, animation production, display and distribution, copyright trading and professional service. These centers will cover all aspects of film and TV production, forming the most complete professional movie and TV center in China."
The most interesting scenes here for ordinary people are the various shooting bases. Everyday, there are several film and TV cameras shooting at the same time in different shooting bases. Their northern China style are from the Ming and Qing Dynasty to present day.
In additional to the studios, 16 studios, including one of the largest in the world, the film base got this magnificent exterior site as well,but this site is not only for saws they got really functional material as well.The room feels really cosy inside, you got everything you need, this chairs tables, even this stove right here.
The statue right here is the logo of the old Beijing Film Studio, now part of the state film base, have been the film base, you realized that this success of China's film is not a singular event of directors, or even a generation of directors, the rise of large studios in the film base in China, shows a systematic revamp of the industry, a industry that has profound commercial, social and cultural implications, on the region, and the country's horizon.
Related stories
Editor:Zhang Hao |Source: CNTV.CN