Watch Video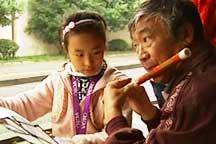 Play Video
While some love singing, others would prefer to play the music accompaniment. To help kids like that, a senior gentleman in Haining of Southeast China's Zhejiang Province has been teaching music to the children of migrant workers for more than seven years. He does it free of charge in an archway under a bridge.
Surprisingly, his generosity has given the old man an achievement he has never had before.
This old man, Jing Wenbin, was an art soldier when he was young. When he was laid off in 2002, he went to Haining, Zhejiang Province, with his wife to make a living. For a time he sold vegetables, set up a stall in the street and opened a restaurant. However, he never gave up his passion for music, no matter where he was or what he was doing.
Jing Wenbin said, "I feel bored when I'm idle. The restaurant's business was not good, then I played musical instruments, which attracted my neighbors. When they discovered I could play musical instruments, they asked me to teach their children."
From then on, more and more children have come to learn how to play musical instruments from Jing Wenbin. The number of students increased from one at the beginning to more than 20 now. Jing Wenbin has taught them for over seven years now.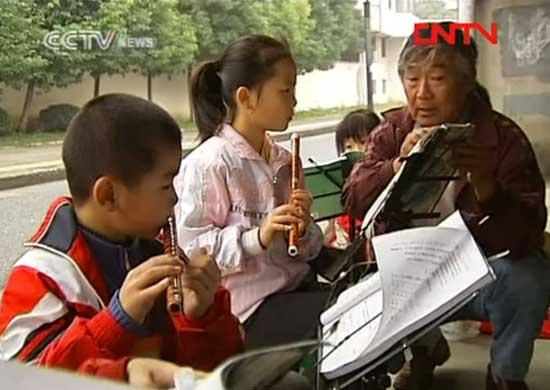 This old man, Jing Wenbin, was an art soldier when he was young.
Jing said, "The parents of these children are all migrant workers. Their incomes are not high. How can I charge them? I just want them to learn my humble skills, so that I won't take these skills to the grave."
In this way, Jing decided to teach these children playing musical instruments free of charge. The children's parents are busy working. Jing sometimes takes these children home for lunch.
Over the seven years, Jing's teaching location has changed again and again. Now this archway under a bridge is the best place. It provides good shelter from rains and the hot summer sun.
Uncle Jing has never changed his mind despite a simple life and homesickness, and he is never late for class even when there is a strong wind, heavy rain, burning heat in summer or in cold winter.
His perseverance has reaped rewards. His students have achieved good results for him. Of the 12 students in the first batch he taught, three passed the art exams of Hangzhou Art School, and nine students got a level-nine certificate. However, the eldest student among them was only 14 years old.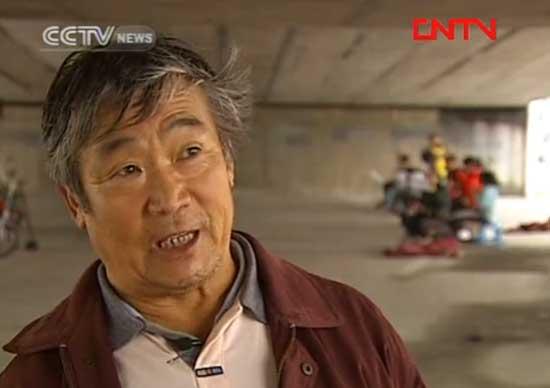 Jing Wenbin
Jing said, "I am 66. I have done many jobs in my life. I've never felt as happy as now. I have a feeling of accomplishment every time they achieve something."
Uncle Jing taught these children to play musical instruments that they were never in contact with; in return these children give Jing Wenbin a sense of achievement that he never had before. With rusted book shelves, dog-eared music scores, cheap erhu and flutes, they play the most beautiful music in this earthly world.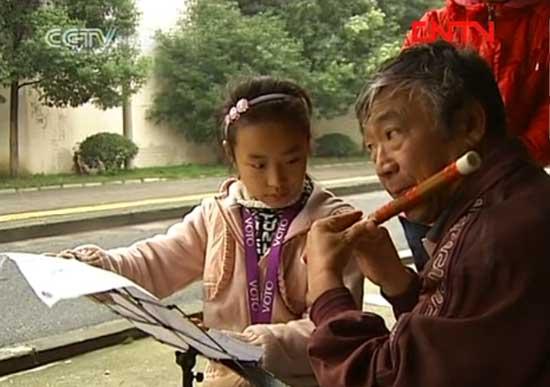 Jing Wenbin
Related stories
Editor:Liu Fang |Source: CNTV.CN