Watch Video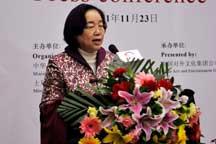 Play Video
Starting from the Year of Chinese Culture in France in 2004, the essence of China's 5000-year civilization and the nation's vibrant new arts have been travelling around the globe. In the process, they strengthen friendships and mutual understanding within those countries and regions.
And in December a new 12-month exchange project will be set off in Turkey. Our reporter Yang Ran joins the press conference in the Ministry of Culture headquarters in Beijing on Wednesday.
Officials of the China Ministry of Culture and the Turkish Embassy in China attended the press conference.
Set to be unveiled on December 12th this year in Ankara, the massive program will be the largest, longest, and most diversified and essential Chinese cultural activities ever held in Turkey. It is also the largest integrated culture exchange program held by China in the Afro-Asian area.
Ilknur, Culture & Press Counselor of Turkish Embassy in China, said, "Our government has prepared for the much anticipated event for the whole year. Turkish people are very interested in Chinese film, acrobatics and cuisine. We are anxiously looking forward to embracing the Chinese artists and Chinese culture. Also we believe that the Year of Turkish Culture in China in 2013 will be a great success too."
The bilateral culture years are in response to the consensus reached by Turkish President Abdullah Gul and Chinese President Hu Jintao in Beijing in 2009, AND a joint statement signed the next year during Chinese Premier Wen Jiabao's official visit to Turkey.
A stage extravaganza called the "New Silk Road" and a related exhibition will open the one-year event, followed by a "Festive Chinese New Year" serial celebrations next January and February and a Chinese Film Festival.
Chinese art groups and artists will be dispersed all around Turkey to participate in various local festivals including the Istanbul International Arts Festival and Antalya Aspendos Opera and Ballet Festival.
The project's general coordinator Xiao Xiayong discloses the program highlights.
Xiao Xiayong, asst. dir. general of Bur. of Ext. Cultural Relations, Min. of Culture, said, "We would like to introduce the ancient civilization elites to Turkish people, since China has never exhibited any cultural relics in Afro-Asian areas. According to the research, the terracotta warriors of the Emperor Qin Shi Huang is the most sensational items and we believe the visitors will be thrilled by the pottery army from over 2000 years ago. China's creative industry has been booming in recent years especially its animation. This time around, over 30 companies will take their star products to Turkey for a showcase and a trading fair."
More than 1000 years ago, the Silk Road first linked the two countries. In the two years to come, the people living at the two ends of the Eurasian continent will know more about each other, from the past to the present.
Editor:Liu Fang |Source: CNTV.CN