Watch Video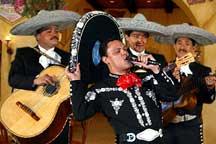 Play Video
Hundreds of mariachi musicians gathered in a Mexico City square to celebrate their patron saint on Tuesday.
Clad in their traditional garb of cropped jackets and wide sombreros, the musicians gathered in one of the capital's main plazas where they gave a concert and heard mass in honor of Saint Cecilia.
Mariachis originated in the 19th century in the southern state of Jalisco where they performed at festivals and weddings. Their instruments include guitars, violins and harp. Many modern day mariachi groups have eliminated the harp in favor of the trumpet.
One musician said he loved being a mariachi.
Jose Yanez, mariachi band player, said, "We have faith because of everything we have seen. We love this job, accidents, a lot of emotions. We are asked to play for a new-born baby as well as a deceased loved one and people, with the music, feel joy and peace."
The name "mariachi" came from French soldiers who arrived in Mexico in the 1800s and called the musicians "marriage", the French word for wedding.
For the last 31 years, Mexico City's mariachis have organized themselves on November 22nd to honour their patron saint, Cecilia. Following the concert in the Garibaldi, dozens of the mariachis marched in a procession to the Basilica of Our Lady of Guadalupe, where they ended their day with a range of national songs.
Editor:Liu Fang |Source: CNTV.CN