Watch Video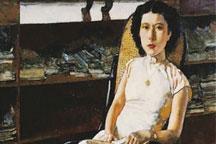 Play Video
By now, it's well known that China has joined the ranks as one of the biggest art markets in the world.
And now, it's showing more concrete signs of being influenced by global economic trends, indicating a more connected and thus more mature market. So, let's take an in-depth look at the Chinese art market.
Whether you look at the trend of high prices in Beijing this autumn, or the large successful transaction volume in Shanghai with its lower prices, the Chinese art market is proceeding more rationally. More collectors are paying attention to precious art works rather than simply buying pieces because there are others wishing to buy.
Xiao Ping, painter, said, "We are not only paying attention to the market features, but also to the academic and artistic value of the works."
It is believed that the art market in China will gradually make its own suitable way and the Chinese collectors will be more rational in the maturing market. At the current stage in the development of China's art market, it's important for collectors to protect themselves by learning to identify art works that have genuine investment potential.
Editor:Liu Fang |Source: CNTV.CN