Watch Video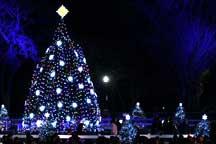 Play Video
For many cities around the world, Christmas is coming to town! In Washington the First Family lit up the White House Christmas tree, while in New York, Justin Bieber, Usher and Michael Buble helped illuminate the lights at Rockefeller Center. Let's join the festivities.
The White House's new National Christmas Tree was lit in Washington on Thursday night. President Barack Obama and his family carried out the honors at a ceremony just after dark.
Barack Obama, US President, said, "It's important for us to keep in mind the central message of this season, and keep Christ's words not only in our thoughts but also in our deeds."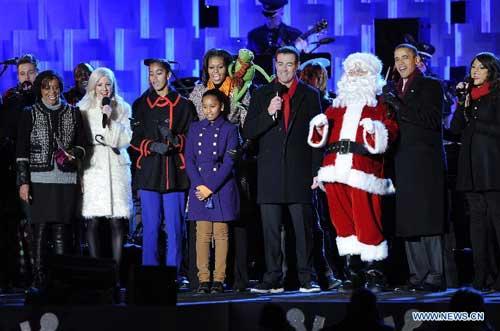 U.S. President Barack Obama and his family sing a song during the National
Christmas Tree Lighting ceremony on the Ellipse before the White House in
Washington D.C., capital of the United States, Dec. 1, 2011. The lighting of the
National Christmas Tree has been a celebration of the holiday season since 1923.
The lighting of the newest National Christmas Tree measuring approximately 26 feet,
includes about 65 sets of proprammable multi-colored LED lights and 160 starburst
ornaments, with a total wattage under 2000 watts. (Xinhua/Zhang Jun)
The new National Christmas Tree was planted in March on the Ellipse south of the White House. It is the 89th year for the holiday tree lighting, a tradition that began with President Calvin Coolidge in 1923.
Meanwhile in New York, Justin Bieber, Usher, Michael Buble, and Tony Bennett helped ring in the holiday season, with the annual ceremony to light the Rockefeller Christmas tree. Buble, who gave one of the ceremony's festive performances, admitted that Christmas brought out his softer side.
Michael Buble, Recording Artist, said, "Christmas is a pretty special time for me, and not unlike many people, my mom and dad and my family gave us a ton of love and made it really special. So, I get really sentimental about it. It's kind of this really cool time where even the most cynical people, somehow their heart melts a little bit and they're just a little kinder to each other."
The tree itself was donated by Deb Keller, a family from Mifflinville, PA. It was decorated with 5 miles of lights, which will stay in place until Jan.7th, after which the tree will be turned into lumber for the housing charity Habitat for Humanity.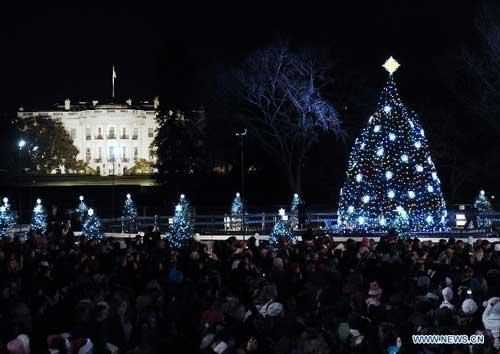 The National Christmas Tree is Lighted during a ceremony on the Ellipse before the
White House in Washington D.C., capital of the United States, Dec. 1, 2011. The
lighting of the National Christmas Tree has been a celebration of the holiday
season since 1923. The lighting of the newest National Christmas Tree measuring
approximately 26 feet, includes about 65 sets of proprammable multi-colored LED
lights and 160 starburst ornaments, with a total wattage under 2000 watts.
(Xinhua/Zhang Jun)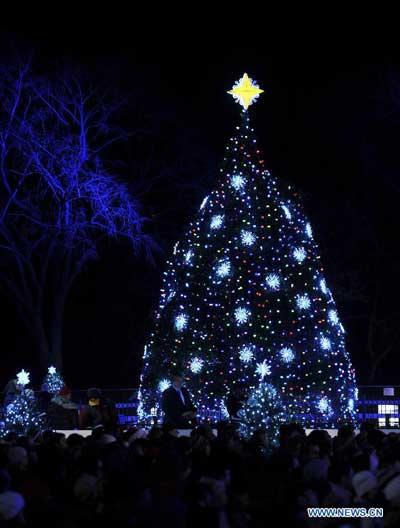 The National Christmas Tree is Lighted during a ceremony on the
Ellipse before the White House in Washington D.C., capital of the
United States, Dec. 1, 2011. The lighting of the National Christmas
Tree has been a celebration of the holiday season since 1923. The
lighting of the newest National Christmas Tree measuring
approximately 26 feet, includes about 65 sets of proprammable
multi-colored LED lights and 160 starburst ornaments, with a total
wattage under 2000 watts. (Xinhua/Zhang Jun)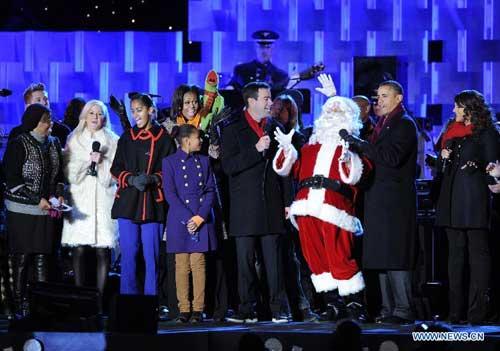 U.S. President Barack Obama and his family sing a song during the National
Christmas Tree Lighting ceremony on the Ellipse before the White House in
Washington D.C., capital of the United States, Dec. 1, 2011. The lighting of the
National Christmas Tree has been a celebration of the holiday season since 1923.
The lighting of the newest National Christmas Tree measuring approximately 26 feet,
includes about 65 sets of proprammable multi-colored LED lights and 160 starburst
ornaments, with a total wattage under 2000 watts. (Xinhua/Zhang Jun)

Editor:Zhang Pengfei |Source: CNTV.CN