Watch Video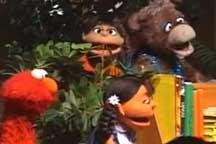 Play Video
The makers of the US TV show Sesame Street has launched a new TV show in Pakistan. The program was jointly developed by Sesame Street Workshop and Rafi Peer Theater Workshop, a Pakistani group that has been staging puppet shows for more than three decades.
The show, called "Sim Sim Hamara" was created under a USAID-funded four-year, 20-million U.S. dollar Project. The TV show has a new cast of local characters. The lead character is a six-year-old girl named Rani who loves cricket and traditional Pakistani music. Another character Munna, is a five-year-old boy obsessed with numbers. There are also a few other characters.
Faizan Peerzada, COO of Rafi Peer Theatre, said, "I think, we have had a really good take off on making a Sesame Sim Sim Hamara which belongs to Pakistan. It has Pakistani characters, it has content which is specially designed for Pakistan and there is a lot of development on the side of making an international level production,"
A total of 78 episodes will be aired in Pakistan's national language, Urdu, over the next three years, as well as 13 in each of the four main regional languages, Baluchi, Pashtu, Punjabi and Sindhi.
The shows will appear on Pakistan state television in late December and the producers hope they will reach 3 million children, 1 million of whom are out of school.
The program is expected to help the educational difficulties of children without access to schooling and reflect messages of inclusion and mutual respect.
Editor:Liu Fang |Source: CNTV.CN