Watch Video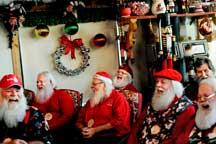 Play Video
Rio de Janeiro's intense summer heat isn't putting off a band of would-be Santas from gearing up for Christmas.
Despite sizzling temperatures there's plenty of takers for a "Santa Course" , that includes traditional white beards and heavy red wooly suits.
This batch of red-suited recruits are the latest graduates from the city's local Santa School, the creation of former actor. Since 1993, the school has graduated some 400 Santas with more enrolling every year.
These men have gone through a one month training program to learn to walk, talk and sing just like a Santa should. Many of these men have prepared for the role months in advance by stopping shaving and growing long, white beards.
Over the four week course each Santa-cadet is required to learn many Christmas songs, some of which are Portuguese translations of well known English language songs, such as Jingle Bells.
Editor:Liu Fang |Source: CNTV.CN