Watch Video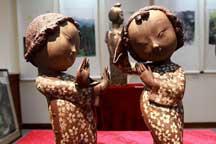 Play Video
In order to promote the arts, cultural exchanges, and mutual understanding between peoples of China and the US, a joint China-US art exhibition kicked off Saturday in Shanghai. In the exhibition, "East Meets the West," exchange and dialogue are the two key words throughout the exhibition.
Over three-hundred pieces of art from fifty renowned artists are presented in the exhibition. The items include paintings, sculptures, ceramic arts and classic furniture from both China and the US.
All the works are selected by special committees such as the New York Metropolitan Museum of Art, National Art Museum of China, and the China Sculpture Professionals Committee.The exhibition's organizer, the US-China Business Association, is echoing the Chinese government's new policy on the culture industry, and contributing their efforts toward China-US art exchange.
Colin Wu, executive vice chairman of US-China Business Assoc., said, "Now, Art and culture has become an industry, because the government both in China and the US are supporting the introduction and promotion the culture to the outside world, many cultural items are translated into arts and crafts' products, and sold to other world, so as a business organization, promoting arts and culture is also a scope of our business."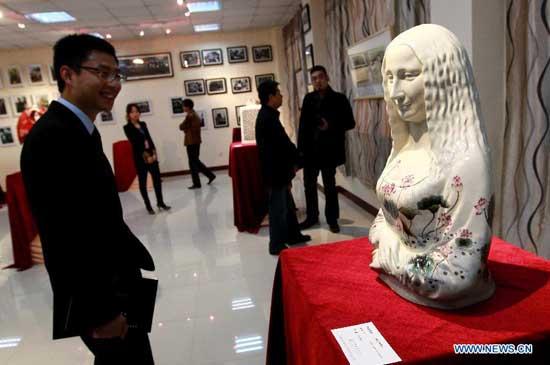 A visitor looks at a pottery bust of Mona Lisa during the U.S. - China Art Exhibition in
Shanghai, east China, Dec. 3, 2011. The U.S.- China Art Exhibition, which showcases more
than 300 pieces of artwork by nearly 50 artists from China and the U.S., kicked off here
Saturday. The exhibition will also tour to cities like Beijing, New York, Washington and
Chicago.(Xinhua/Pei Xin)
In order to give a prominent character for this special exhibition, the organizer has also arranged artists to create a special work for the exhibition. This beautiful ceramic pieces is a work by master Lin Mingde from Taiwan. And this was made by Chinese artist Lv Yiren. There is also one by Chinese artist Zhang Hua. From these sculptures, modern elements have surpassed the purely traditional ones.
American artist Abiola Akintola lived in China for a year to prepare these sculptures, and they do not represent the limit of his creations during his stay.
Abiola Akintola said, "This is a time for both countries to unite, and work together, it's going to help the culture exchange program, in this sense, even highlight some of the major artist, even in China, and both US."
Shanghai is the first stop of the exhibition. Next year, there will be a tour exhibition in the US, including New York, Washington, Chicago, and Los Angeles. It will end in Beijing, the last stop of the tour.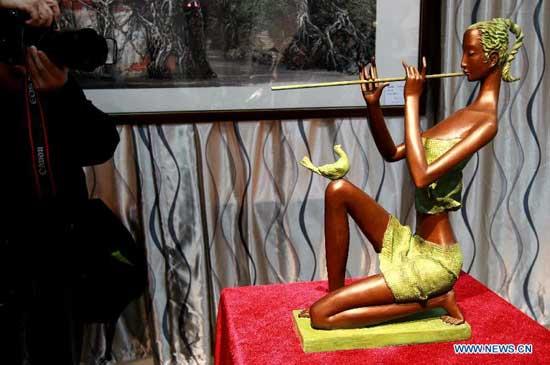 A sculpture is seen during the U.S. - China Art Exhibition in Shanghai, east China, Dec. 3,
2011. The U.S.- China Art Exhibition, which showcases more than 300 pieces of artwork by
nearly 50 artists from China and the U.S., kicked off here Saturday. The exhibition will
also tour to cities like Beijing, New York, Washington and Chicago.(Xinhua/Pei Xin)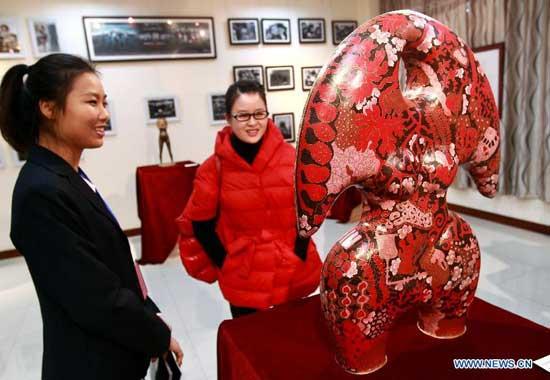 Visitors look at a cloisonne figure during the U.S. - China Art Exhibition in Shanghai,
east China, Dec. 3, 2011. The U.S.- China Art Exhibition, which showcases more than 300
pieces of artwork by nearly 50 artists from China and the U.S., kicked off here Saturday.
The exhibition will also tour to cities like Beijing, New York, Washington and Chicago.
(Xinhua/Pei Xin)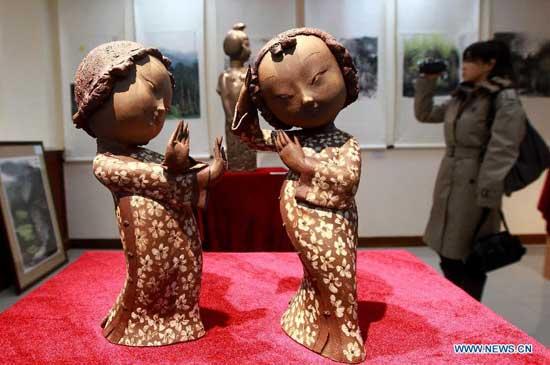 A pottery creation is seen during the U.S. - China Art Exhibition in Shanghai, east China,
Dec. 3, 2011. The U.S.- China Art Exhibition, which showcases more than 300 pieces of
artwork by nearly 50 artists from China and the U.S., kicked off here Saturday. The
exhibition will also tour to cities like Beijing, New York, Washington and Chicago.
(Xinhua/Pei Xin)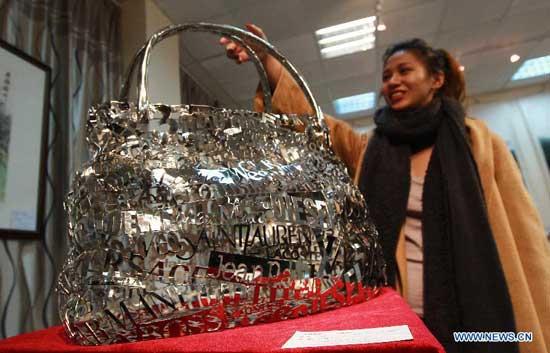 A handbag made of stainless steel is seen during the U.S. - China Art Exhibition in
Shanghai, east China, Dec. 3, 2011. The U.S.- China Art Exhibition, which showcases more
than 300 pieces of artwork by nearly 50 artists from China and the U.S., kicked off here
Saturday. The exhibition will also tour to cities like Beijing, New York, Washington and
Chicago.(Xinhua/Pei Xin)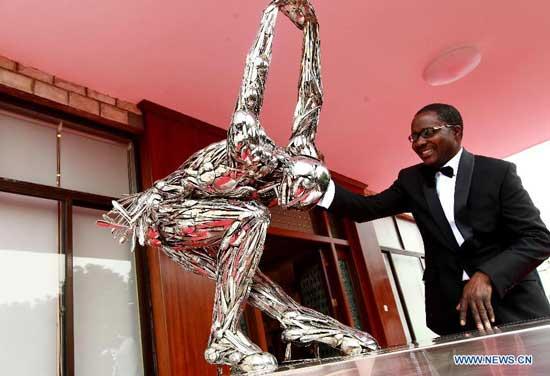 A figure made of steel spoons is seen during the U.S. - China Art Exhibition in Shanghai,
east China, Dec. 3, 2011. The U.S.- China Art Exhibition, which showcases more than 300
pieces of artwork by nearly 50 artists from China and the U.S., kicked off here Saturday.
The exhibition will also tour to cities like Beijing, New York, Washington and Chicago.
(Xinhua/Pei Xin)
Editor:Liu Fang |Source: CNTV.CN