Watch Video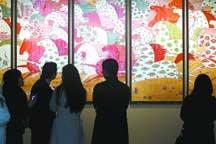 Play Video
The temperature keeps dropping as winter sets in here in the capital, but the atmosphere in the art circle is still heating up.
There are a number of ongoing art exhibitions in Beijing that feature works from masters and their apprentices, ones that review the past decade, and ones that predict the future.
Central Academy of Fine Arts is holding a painting exhibition in its gallery, displaying outstanding paintings from undergraduates along with their tutors' works. It's also an occasion to celebrate the 10th anniversary of the School of Fine Arts, the only faculty that focuses on foundation modules for beginners. Freshmen spend their first year here, then make further decisions based on their own preference.
Xu Jiang, dean of China Academy of Art, said, "For art students, foundation courses are very important. One cannot express their thoughts without knowing the basic methods. This is what we're focusing on improving. "
Stressing basic questions such as "how to learn", "how to paint" and "how to teach", a series of case studies from the United States are also on exhibit for a comparative perspective.
"Modern Art for the Next Decade" is another ongoing exhibition in Beijing's "Today Art Museum". Similar themes have been discussed by art critics and collectors for a long time, but the curator of this exhibition is presenting the thoughts of artists themselves.
Fang Miner, organizer of Today Art Museum, said, "We're looking at the creators of art, they are the ones who can determine the future of the art development."
The exhibition will continue until December 14th.
Another exhibition located in 798 Art Distict is entitled "Pervasion Beijing". According to the curator, this event aims to echo the art installations from the China Section of this year's Venice Biennial. The exhibition will conclude on December 27th.
Editor:Liu Fang |Source: CNTV.CN