Watch Video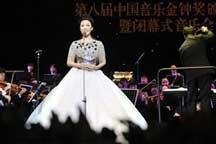 Play Video
The prestigous national musical award, the 8th Golden Bell Awards, had its closing ceremony in Guangzhou of Guangdong Province over the weekend. This national-level contest features music acts of diverse genres including everything from ethnic folk music to a string quartet.
A total number of 278 contestants took part in this year's competition of Golden Bell Awards. Artists from Hong Kong, Macao and Taiwan are included in the competition for the first time. During the closing ceremony, 28 outstanding individuals were awarded with a trophy.
The highlight of the night comes when 8 winners of Lifetime Achievement Award are introduced on the stage. Renowned artists including singer Zheng Xiaoying, Li Guangxi and lyricist Yan Su were honored for their dedication to the development of China's music scene.
Meanwhile, the organizers of the Golden Bell Awards continue carrying out their low-price policy to let more people enjoy the music. Plus, there are 55-hundred free tickets dispatched to low-income families and senior citizens this year.
The effort is paying off as the Golden Bell Awards has become one of the most well-known musical occasions for music fans over the past decade.
Editor:Liu Fang |Source: CNTV.CN