Watch Video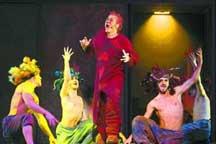 Play Video
The English version of the French musical "Notre Dame de Paris" debuted at the Shanghai Culture Square in Shanghai on Friday. Now, join me there to take a look at the moving musical with its marvellous stage effects and brilliant performances.
Beginning with the song, "The Age of the Cathedrals", the musical takes the audience back to the year 1482 and into the hearts of the protagonists. The performance contains no dialogue. Instead, 50 songs of various types, including aria, rock and roll, folk and Bohemian style music combine to move the story forward.
An audience member said, "The music is very moving and the stage effects are also wonderful. The story is very well woven together. I think it captures the original story very well, and makes some improvements on it as well. The musical's method of storytelling makes it very easy to understand."
Based on Victor Hugo's novel "The Hunchback of Notre Dame," the play takes place in Paris during the year 1482, and tells the story of two lovers: a malformed hunchback bell-ringer named Quasimodo and Esmeralda, a charming gypsy dancer.
As opposed to traditional musicals, the singers in the English version of "Notre Dame de Paris" do not perform the show's feature dances. Rather, when the show's seven protagonists sing, other dancers give improvised performances in order to express the complex feelings of each character.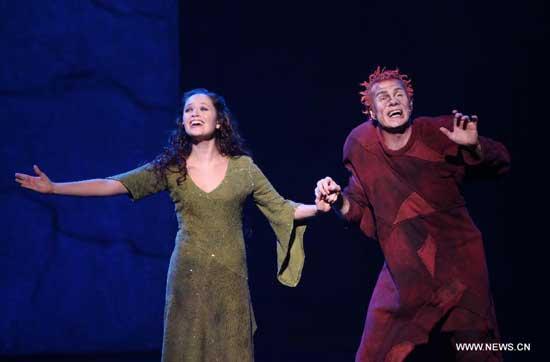 Actors perform on the stage in Shanghai, east China, Dec. 2, 2011. The english version of the well-known French musical Notre Dame de Paris shows in Shanghai Culture Plaza from Dec.
2 to 24. This musical that contained aria, rock and roll, folk song and amazing stage
effects bewitched the audience. (Xinhua/Ren Long)
An audience member said, "I think that all the actors played their roles pretty well. The story is simple, yet very exciting."
The troupe of the English version of "Notre Dame de Paris" will perform 24 shows in Shanghai, the last of which will take place on December 24th.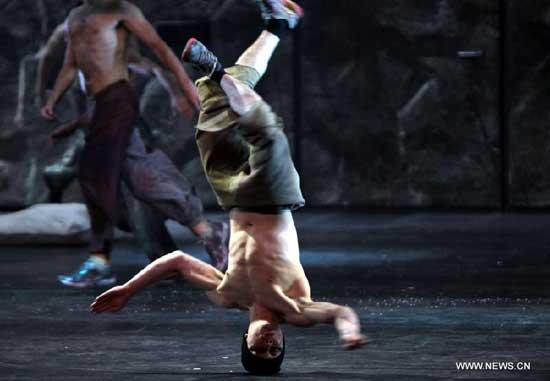 Actors perform on the stage in Shanghai, east China, Dec. 2, 2011. The english version of
the well-known French musical Notre Dame de Paris shows in Shanghai Culture Plaza from Dec.
2 to 24. This musical that contained aria, rock and roll, folk song and amazing stage
effects bewitched the audience. (Xinhua/Ren Long)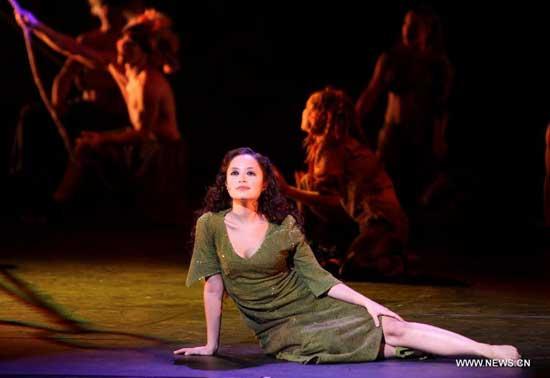 An actress performs on the stage in Shanghai, east China, Dec. 2, 2011. The english version
of the well-known French musical Notre Dame de Paris shows in Shanghai Culture Plaza from
Dec. 2 to 24. This musical that contained aria, rock and roll, folk song and amazing stage
effects bewitched the audience. (Xinhua/Ren Long)
Related stories
Editor:Liu Fang |Source: CNTV.CN