Watch Video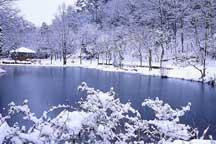 Play Video
While most would want to escape freezing temperatures for a tropical destination, in Northern China, visitors from both home and abroad are converging at scenic spots, to get a taste of winter.
Now, let's head to China's Inner Mongolia and Xinjiang Uygur autonomous regions to enjoy a paradise of ice and snow.
As part of the Inner Mongolia Hulunbuir Ice and Snow Festival, the Nadam Fair opened on Friday.
During the event, local residents participate in activities like horse racing, archery, skiing, traditional Mongolian dancing and wrestling. These activities give visitors a fresh experience of how different ethnic groups cope with the winter weather.
Huang Zhibin, tourist, said, "It's my first time here this winter, the scenery is just so beautiful. And the people here are very nice, their traditional customs are so special. It's amazing!"
The event goes until March, covering the New Year, and Spring Festival.
Next door to Inner Mongolia, snowfall in Altay Prefecture in northwest China's Xinjiang Uygur Autonomous Region also creates a fantastic view that has attracted many tourists to the area.
Besides the stunning scenery, visitors can also enjoy the unique ice and snow entertainment here. Altay is honoured as "the cradle of traditional Chinese skiing". There are wonderful skiing shows on ancient skiing boards performed by locals during the festival.
Related stories
Editor:Liu Fang |Source: CNTV.CN