Watch Video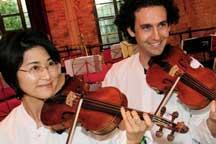 Play Video
The mission of doctors is to save patients, but here's a special group of physicians who have a found an unusual way to help.
Medical practitioners from 40 countries and regions have organized an orchestra to help raise funds for needy patients. They performed a concert at the National Center for the Performing Arts over the weekend.
The World Doctors Orchestra has been around for 2 years, but this performance was the group's first in Beijing. The concert organizing committee made a special request of composer Zhou Wenjun to write "Mission" a piece that expresses appreciation to doctors for their humanitarianism, universal love and dedication.
The World Doctors Orchestra was established in 2007 and twice a year doctors take off their white coats, and put on gowns to raise funds for people who need medical care.
Yin Jia, representative of World Doctors Orchestra, said, "I think in the future, China should also establish a doctors' orchestra and give a charity performance every year. In this way, doctors can help patients."
The next stop for them is Shanghai. The money collected will be donated to China International Medical Foundation for medical welfare.
Editor:Liu Fang |Source: CNTV.CN