Watch Video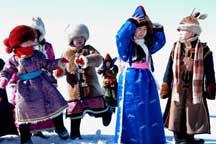 Play Video
The natural environment of Inner Mongolia is chiefly composed of the forests of the Greater Khingan Mountains and the grasslands in Hulunbuir. Taken together, they make up an ocean of natural forests and grasslands.
While the region has a four-season monsoon-influenced climate, the most impressive season is its long, cold, and very dry winters. So, for many tourists, Inner Mongolia Autonomous Region is a favorite winter wonderland.
Located in the northeastern part of Inner Mongolia, the Hulunbuir is snowing more than five months each year. Due to three big snows already this year, the average thickness of the snow is over 10 centimeters, and four times that at the ski resorts.
Every winter, hundreds of tourists enjoy their vacation at the ski resort of Yakeshi city within the Hulunbuir. It features top-class ski runs that provide a variety of choices for skiers. While some green hands are struggling to stay upright... the veterans are indulging themselves on the speed run.
A tourist said, "The design of the ski run is really fantastic. It's a thrill to ski here and I like it so much. "
If you're not so familiar with skiing, a professional trainer is available to help you as well.
The trainer said, "While walking on skis, we should walk towards two sides of our body, and stretch fast. "
In the area, many minorities such as Mongolians, Daurs, Owenks and Oroqens are concentrated, each group with its strong ethnic customs. Besides skiing in the resort, travellers could also take in some ethnic activities such as a horse race or taking a reindeer sleigh, the daily transportation for natives during the 5-month-long winter.
There are also some activities for kids, like sledding on the slope by the snow house.
The variety of activities attract more and more visitors every year. From 2010 to 2011, the Hulunbuir tourism industry welcomed 870-thousand visitors who contributed greatly to the local economy.
Editor:Liu Fang |Source: CNTV.CN