Watch Video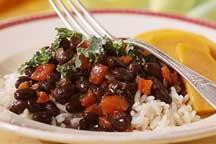 Play Video
When we talk out Brazilian cuisine, barbecue perhaps will first jump into your mind. But another food is also very popular in the south American country. It's black bean rice, which has been popular with Brazilian people for centuries.
Black bean rice is a traditional food in Brazil. It's said that three hundred years ago during the Portuguese colonial rule, slaves invented the dish. While land owners ate pork and cast away the pig's feet, ears and internal organs, the slaves used these discarded parts to cook with black bean.
But the food soon caught on because it was both delicious and nutritious. Nowadays, black bean rice is an indispensable food on local people's diner table. In most parts of Brazil, people eat this food twice a week.
A customer said, "I like black bean rice. Every Wednesday and Saturday I eat it. It's rich in protein, and very yummy."
The food stuffs that are cooked with black bean have evolved with time. Dried beef and pork, smoke sausage, pig's tongue, ear and tail, and onion, garlic, hot pepper have been added into the ingredients. The rice is covered with a layer of cooked black bean, covered with some tapioca flour, and decorated it with vegetables and orange.
Cooks say a good taste comes from inspiration. Different cooks make different flavors. And the taste varies according to different regions, depending on climate, food varieties and season. That makes the food more enchanting.
Editor:Liu Fang |Source: CNTV.CN