Watch Video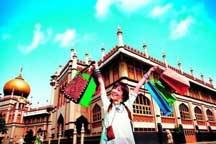 Play Video
The Standing Committee of the National People's Congress (NPC) recently heard a report showing huge growth in China's tourism industry over the past several years.
The report showed an 11 fold expansion of the industry from 1994 to 2010 - which generated 6 trillion yuan over the past 5 years.
Shao Qiwei, commissioner of China National Tourism Administration, said, "How should we interpret this figure? It means we have had a very big tourism market inside China. The tourism market in China now is the third biggest in the world. Meanwhile, China has become the biggest market for travellers in Asia. "
According to the Statistics, the increased value generated by the tourism industry now represents more than 4 percent of GDP. It now accounts for 90 percent of hotel industry revenues, and more than 80 percent for rail and air travel. The report showed 13.5 million jobs created directly by the sector over the past five years, while indirect effects are estimated to have created 60 million jobs.
Shao said, "At the end of the twelfth five year plan, the industry is expected to hit 3.3 billion travellers. This is an enormous figure. Travel abroad has been increasing 20 percent year-over-year recently.
Tourism has become an important bridge between China and other countries in recent years. So far, China allows its citizens to travel to 140 different countries and regions. And recently the government has been working to make travel simpler and more efficient.
Editor:Liu Fang |Source: CNTV.CN