Watch Video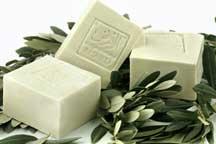 Play Video
Finally, it's time to wash off the dust from 2011, and find out about one of the most natural soaps in the world -- which also happens to be one of the oldest. Nabulsi, which takes its name from the West Bank city of Nablus, is made of a simple combination of olive oil, caustic soda and water.
The secret, of course, is in the method, a laborious process that follows age-old traditions. Time to buff up on some serious soap making.
Pure olive oil is the main ingredient of Nabulsi, an all-natural soap that's part of the Palestinian tradition.
Its ingredients may be simple, but its creation is not: it requires days of work and the skilful hands of expert soap cutters and block wrappers.
Located just outside the city, the Tubeleh brothers' factory is one of only three still making the traditional soap.
Mojtaba Tubeleh, owner of Nablus Soap Factory, said, "In the popular Nabulsian word we are talking about cooking, the same way of cooking meals and vegetables, we are cooking olive oil for making (it) soap. So we cook the soap; this process takes - for example - in general six, seven hours. And after that we leave the soap to rest, also for four, five hours and then we put it on the floor."
After being heated, the soap mixture is poured on the floor to be levelled by an expert.
Once solid, the blocks are marked out before the soap is cut. But that's not the end of it -- the blocks must then be left to dry for days, often stacked as high as two meters.
The old soap making factories are now popular tourist attractions. At this factory in Nablus city center, visitors have come to watch the ancient process.
Once dried, the cubes are wrapped in paper -- an operation that requires skill, and very fast hands. An experienced soap wrapper can wrap 5 to 6 thousand bars a day.
Mojtaba Tubeleh said, "Because it is completely natural, it is very useful for skin, it is very useful for hair, it is very useful for body, it's healthy. There are no bad things or effects from this kind of soap."
The Tubeleh family has now added a new line of scented soaps to the classic Nabulsi. Mint, fruit, Dead Sea minerals and other herbs have proved popular variations.
They're also developing specialist soaps for tightening the skin or fighting spots.
Mojtaba hopes the soap's unique appeal may soon start to spread beyond the region, and into foreign markets.
Editor:Liu Fang |Source: CNTV.CN