Watch Video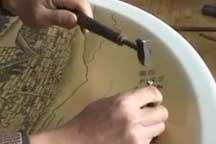 Play Video
Here on Culture Express, we often introduce you to such traditional Chinese arts as embroidery and porcelain. But today we want to show you an amazing style that combines the two -- embroidery on porcelain. It may sound impossible, so let's head to the city of Zibo in Shandong Province to check it out.
This is the sound of stitching, though it's done with small carving knives, rather than needles to bind colorful strings. At this moment, the knife in Zhu Limin's hand is the incarnation of an embroidery needle and painting brush.
Looking around Zhu's studio, you can see that his works include great variety. There's mountain scenery, portraits, ancient buildings, everything you might find on a painting.
Zhu believes a real carved porcelain art-piece cannot be made by machine.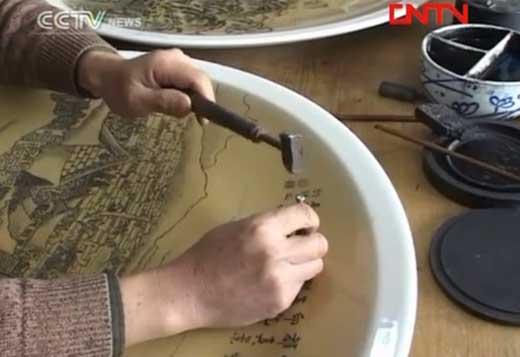 embroidery on porcelain
Zhu said, "What hand-made works offer that machinery cannot match is the sensitive reflection of the carver's feelings. Thick or thin, fast or slow, it's the presentation of emotion. Machines can't do that. Lines on the manufactured works are numb and vague."
For Zhu's carving to reach this level of vitality, he's been at it for almost 40 years.
Zhu said, "I've liked painting since I was a boy. In the mid 70s, porcelain carving came into my life and I swiftly became fond of it. It's the art of immortal painting."
Paintings that never fade, that's actually how porcelain carving came into being.
embroidery on porcelain
Emperor Qianlong of the Qing Dynasty enjoyed writing poetry on his favorite porcelains. Craftsmen in the royal palace came up with the idea to preserve the poems by carving on it. It calls for so much skill and patience that very few craftsmen have taken up the practice since it appeared 200 years ago.
Zhu said modern society is too restless for the younger generation to stay quiet to learn the complicated craft.
Then he looked down on the small knife in his hand, and started again.
Editor:Liu Fang |Source: CNTV.CN