Watch Video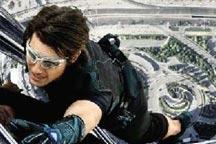 Play Video
The two-week long Lunar New Year holiday has come to an end and helped to boost the film market. About 20 new films have met the Chinese audience, and generated substantially higher revenues over the same period last year. Let's take a closer look at the holiday movie market.
According to China film statistics, total box office grosses starting from the first day of the dragon year have reached 390 million yuan, up 20 percent from last year. Action movie "The Viral Factor" and animated series "Pleasant Goat and Big Big Wolf" have earned outstanding performance at the beginning of 2012 in mainland film market.
The most profitable contributors to the box office have been the foreign hits "Mission Impossible 4" and "Sherlock Holmes 2." These two blockbusters got a very impressive score with over 100 million yuan in just one week, sweeping aside other competitors. Domestic films, however, contributed much less to the box office grosses than expected.
Comedy "Fan Ju Ye Feng Kuang" directed by Shangjing, grossed only 50 million yuan by the end of January. And the overall performance of other domestic comedies was barely satisfactory.
The New Year holiday is traditionally a golden period for the film market. But with 20 films screening at the same time, Chinese audiences are much more selective than before. Star power and public praise are both essential for attracting audiences. For movie production companies, the key is to find some way to grab people's attention in order to create a more profitable market.
Editor:Liu Fang |Source: CNTV.CN