Watch Video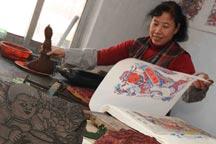 Play Video
The intangible cultural heritage exhibition is a rare chance for the public to see so many handicrafts and the process of making them -- all in one place. Today, let's focus on one of the exhibited handicrafts called "Nianhua", or new year picture, which is a form of Chinese colored woodblock printing for decoration during the Chinese New Year holiday.
Customarily, as each Chinese New Year arrives, every family modifies its New Year picture in order to say goodbye to the past and welcome the future. The exhibition shows different styles of new year pictures from Suzhou in Jiangsu Province and Fengxiang in Shaanxi Province. The subjects range from door gods to babies and women. With its bright colors and figures, new year pictures from Fengxiang are quite popular in northwestern China. But its inheritor says this handicraft is under threat.
Tai Liping, inheritor of Fengxiang Nianhua craftsman, said, "The main problem we're facing is that there are fewer and fewer designers for new year pictures. For example, in northwestern China, only our family is still making Fengxiang New Year Pictures."
Tai Liping is the twentieth generation heir of the Tai family. According to history, the Tai family has been making New Year pictures since the Ming dynasty. It produced 6 million pieces of New Year pictures a year during the family's golden age. But in 1970s, Fengxiang New Year Pictures nearly vanished. In order to save the endangered art, Tai Liping began collecting and reproducing new year pictures in 1978. Thanks to his efforts, this old art is alive again.
Tai Liping said, "There were originally more than 600 typical forms of Fengxiang nianhua. Now, nearly 400 have been reproduced, and reproduction for about 30 others is underway."
Different from Fengxiang new year pictures, which are bold and vigorous, nianhua from Suzhou city is famous for its delicacy. The main topic is always about rich offspring, happiness, family reunion and harmony.
At present, there are more than 10 kinds of Chinese nianhua, and most of them adopt the traditional way of woodblock printing. However, this old printing skill is under threat from mass production. Being listed as an intangible cultural heritage may be the best way to keep this tradition alive.
Editor:Liu Fang |Source: CNTV.CN