Watch Video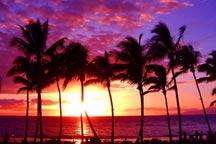 Play Video
Hawaii is enjoying a boost in tourism courtesy of the film and TV industry. The Pirates of the Carribean movies enticed people to the islands, and now the TV show, 'Hawaii Five O', is doing the same. With its warm weather and stunning scenery, let's hurry there to check it out.
The reworking of the hugely successful 1960's police drama, 'Hawaii Five-O' is now in its second season. Set in Hawaii, the series regularly features local beauty spots and real businesses. To shed light on the casual and daily Hawaii, that follows the plan of Peter Lenkov, the executive producer of the TV series.
Peter M. Lenkov, producer of Hawaii Five-O, said, "It's paradise and sometimes there's trouble in paradise and that's where Five-0 comes in, but really we treat the island as another character and we try to explore it week to week and try to delve into its culture and really treat it with respect and try to get the audience who's never been here before to have a little lesson on these islands."
In 2008, Hawaii tourism suffered a massive blow with negative growth of more than 10 percent. Now, according to the Hawaii Visitors & Convention Bureau, the number of tourists coming to Hawaii is almost back to pre-crisis levels.
Whether this is due to Hawaii's famously high return visitor rates or to the numerous TV and movie productions shot here in recent years is hard to quantify.
Prior to the new series of 'Hawaii Five-O', the 4th film in the hugely successful 'Pirates of the Caribbean' series was filmed on the islands. All the scenes on the mysterious island at the center of the international hit TV drama series 'Lost' were also shot here.
President and CEO of the Hawaii Visitors & Convention Bureau, John Monahan says 'Hawaii Five-O' has undoubtedly had a positive effect on the tourism industry.
John Monahan, president and CEO of Hawaii Visitors & Convention Bureau, said, "Our repeat visitors are very high. It's north of 70 percent from North America, so a lot of people know Hawaii and the fact that Five-0 actually uses products that these people have seen I think adds some authentication. Yeah that's a bit of the Hawaii experience."
According to the Bureau more than 7 million people visited Hawaii during 2011 - up 2-and-a-half percent from the previous year. And the number is still expected to rise.
Related stories
Editor:Liu Fang |Source: CNTV.CN