Watch Video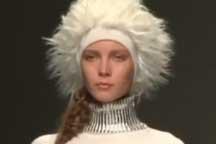 Play Video
Designer Anna Molinari showes her latest collection for the label "Blugirl." According to the designer, the cold weather and snow this winter helped inspire the show. Let's check it out.
The ready to wear fall and winter collection was divided into four sections for the fun and carefree "Blugirl" woman.
The first placed emphasis on a British look. Girls dressed in college style outfits, in blue, red and white. There were chequered and striped patterns on socks and jumpers. Tailored coats came in bright blues and reds.
Pastels then ruled the catwalk. Fluffy jackets came in muted greens and were teamed with pink tights and ear muffs. Molinari says the design expresses some attitude.
Anna Molinari said, "The second theme - is the pastel colors, the sorbettos, which during the winter give some optimism and joy. The lace-ups shoes with very high heels and everything well organized with all the colors, greens, pinks, violet. The green is really special."
The third section presents fluffy moon boots teamed with white tights and fluffy hats, while jumpers were thick knit wool and warm resembling polar bears. The designer wants to pay homage to the cold weather that blitzed through Europe last month.
Anna Molinari said, "Then we have the entirely white section, for the great chill that we have seen recently even in the city where there's been a lot of snow."
Attention was paid to the classic black dress for the final theme. Gowns were long and elegant, with embellishments.
Editor:Liu Fang |Source: CNTV.CN