Watch Video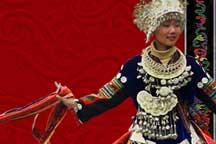 Play Video
China is famous for its various kinds of embroideries, especially those made by certain ethnic minorities. The type called Miao embroidery is known for using meticulous skills such as "Split Thread Stitching" and "Bold Coloring", a uniqueness that comes from being geographically isolated.
Miao embroidery is the major decorative element on traditional Miao clothing. It represents Miao's female culture, because the skill is only passed down to women.
Besides various kinds of patterns and skills, Miao people also use bold colors like red and green, stitching other colors into the margins. In addition, by using black as the background color, the "picture" becomes harmonious and a three-dimensional quality.
What makes Miao embroidery special is its focus on thread skills instead of needle skills, which is why the stitching style is called "Splitting Threads". They splits one common thread into 10 separate strands.
To make the beautiful patterns, a high standard is required. Meanwhile, it's also very time consuming.
A Miao embroidery craftswoman said, "It takes at least half a year to finish a piece, and among the embroidery skills, the split thread is the hardest to stitch."
The development of the "split thread" technique has a 100-year history.
The patterns mostly depict animals and plants from daily life. This imbues their clothing with feelings, expectations, and faith in the Miao community.
Miao embroidery was included in the first batch of national intangible cultural heritage. In order to preserve this art, an embroidery association was established in the village in 2006 with 120 members. It arranges training classes and handles orders from outside the community. By taking these pro-active measures, this ancient ethnic skill is shining again.
Editor:Liu Fang |Source: CNTV.CN