Watch Video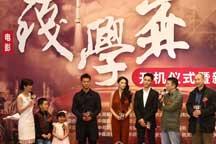 Play Video
To mark the 100th birthday of late Chinese scientist Tsien Hsueshen, a biographical film was shown at the California Institute of Technology, where Tsien studied as a young man.
Hailed as the father of Chinese astronautics and missiles, Tsien is still inspiring many young students who are looking to mix a love for science with patriotism.
Chinese scientist Tsien Hsueshen honored in film
The California Institute of Technology is where Tsien Hsuenshen used to live and learn. After twists and turns, he managed to return to his motherland and help his country build stronger military defence capabilities.
Hundreds of Chinese students and professors came to watch the movie. Among them was Theodore Yao-Tsu Wu, a student of Tsien when he was at the California Institute of Technology. The movie brings back vivid memories of the past and his teacher. Theodore Yao-Tsu Wu said, "He is a great man, of high view and noble ambition."
The movie of their alumni is also inspiring today's students. Ning Xin, Chinese student in California Institute of Technology, said, "We should remember the spirit of Tsien and his persistence, and his deep love for the motherland."
The iconic scientist passed away in 2009.
Chinese scientist Tsien Hsueshen honored in film
Chinese scientist Tsien Hsueshen honored in film
Editor:Zhang Dan |Source: CNTV.CN