Watch Video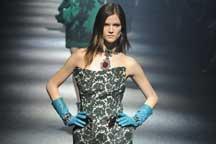 Play Video
Three top designers have unveiled their latest collections as Paris fashion week continues. On Friday, Alber Elbaz, the creative director of Lanvin, a renowned French designer brand, celebrated the last decade in fashion with a blend of both feminine and masculine elements. Not to be out done, designers Octogenarian Sonia Rykiel and Viktor & Rolf, also launched their latest ready-to-wear collections.
Every inch of the couture, ruffles and shimmer that revitalized the house over the last few years was on display, including reinterpretations of 1960s vintage pieces from the iconic archives. Spotlighting dappled the colors of scuba-like neoprene dresses with peplums and inflated arms in canary yellow, emerald green and royal blue.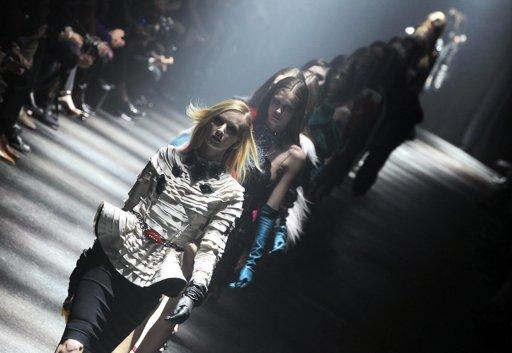 Models present creations by Moroccan-born Israeli designer Alber Elbaz for Lanvin
during the Fall/Winter 2012-2013 ready-to-wear collection show in Paris. (AFP
Photo/Pierre Verdy)
Reading like a Lanvin fashion encyclopaedia, the theme switched to a leather-infused take on sportswear jackets with a dazzling array of reworked parkas, perfectos and bombers.
The next chapter revisited archive pieces such as a duchesse satin insert, replicated from the 1960s, on a black and gold brocade gown with matching knee-high boots.
The collection closed with a celebratory, postmodern twist: sheaths printed with Elbaz's own hand-drawn sketches of dresses over the years.
Celebrities, like singer Mika and actress Tilda Swinton sat in the front row, along with Chinese star Yao Chen. It's the award winning actress' second time attending Paris fashion week. Yao said she liked Albert's ability to mix the feminine and masculine feel.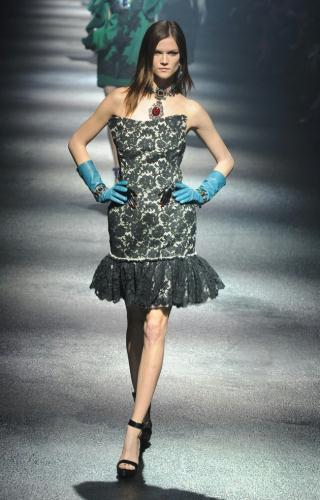 FWD201 Model walks the runway at the Lanvin Women
Fall 2012 show in Paris on Friday, March 2, 2012.
(Fashion Wire Daily/Gruber)
Yao Chen said, "It's got a feminine and also masculine feel, have a fabulous mix together, and Albert loves women."
Instead of bowing, a joyful Elbaz took a microphone to the stage and, admitting he couldn't sing, attempted a rendition of 'Que sera sera.'
Alber Elbaz said, "I always said that when I came to Lanvin that I'm actually dressing women, I'm not doing it for magazine, I'm not doing it for editor, because editor are women. I love women, but I'm afraid of editors, but women I adore. Enjoy the party darling."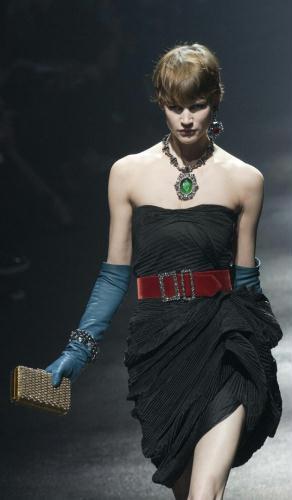 A model wears a creations by Israeli fashion
designer Alber Elbaz and Dutch fashion designer
Lucas Ossendrijver for the fashion house Lanvin
collection for her the Fall-Winter, ready-to-wear
2013 fashion collection, during Paris Fashion
week, Friday, March 2, 2012. (AP Photo/Jacques
Brinon)
Octogenarian Sonia Rykiel looked on from the front row Friday at her fall-winter ready-to-wear show that the program notes said went back to the "effervescent seventies." But the collection, designed by the new creative director April Crichton, seemed more timeless than anything else.
A black-and-white skirt suit opened the show, followed by trompe l'oeil shirtdresses with revamped 1950s headbands and a showcasing of tight Edwardian-era collars - a new feature in the house's normally more casual style.
Stricter than previous shows it may have been, but the sageness of higher necklines and lower hems was shot down in many pieces with cheeky flesh-baring cutouts - a wink from a house that prides itself on nonchalance.
Victorian midnight was the theme in a romantic fall-winter ready-to-wear collection from Viktor & Rolf, strong on evening wear, high-collared furs and even the odd "bed wear" piece.
Surprises were on display with fluid, metal-sheen silhouettes based on pajamas. But in sumptuous printed satin-silk, it would be a waste to just wear them to hit the sack.
An in-vogue Edwardian edge defined many evening wear looks with overgrown-sleeved slip dresses, and feather-light tulle gowns paired up with glass embroidery and silk fringing.
Editor:Zhang Dan |Source: CNTV.CN