Watch Video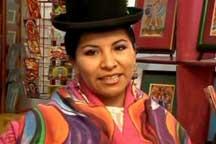 Play Video
Nearly a thousand Bolivians come together every year to dance in an annual religious festival. One celebrated Bolivian artist paints unique shawls for the women in the festival that can cost more than what some Bolivians make in a year.
Roberto Mamani Mamani, a shawl painter, is dancing happily with women wearing his works, but behind the smiles and delight comes a high price, literally.
Each of the shawls to be worn on the religious festival in June is valued at $3,000 dollars, not to mention the Jewels that come with it. Expensive as they may be, many Bolivians think it's worth it.
Olinda Grace Silvestre, sponsor, said, "This attire is expensive, especially the jewels and the shawl made by the master, Robeto Mamani Mamani. We want to show that our folklore varies greatly and is rich."
Mamani's too humble to admit that he is a master but says each of his works is a one-of-a-kind and culturally significant to the nation's heritage.
Robeto Mamani Mamani said, "Each shawl is unique, like a piece of art. We do a graphic conception and a unique piece of work for each of our sponsors wearing them."
One group of participants say they spent more than $300,000 dollars in the festival in all. A certain sign of their dedication to their Bolivian cultural identity.
Editor:Zhang Dan |Source: CNTV.CN