Watch Video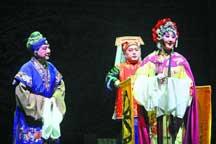 Play Video
When talking about Chinese opera, Peking Opera stands out far ahead of its peers. But in fact, its one of the youngest traditional operas forms in China. Today we're going to tell you about Han Opera, an operatic form from central China's Hubei Province, with a tradition spanning more than four centuries.
This is the debut night of "The Universal Pagoda". At Wuhan Theater, 1,500 people are enjoying the classic show in the theatre's brand new layout. The story is about a girl trying to survive the political turmoil of late Qin Dynasty. New elements have been added in to give this old classic a fresh look.
Wang Li, Han Opera performer, said, "There are new stories added in, with new arias and actions."
The new edition bears the fruit of experts from all over the country that have been invited to revive the classic. And the feedback is increasingly positive.
An audience member said, "It's fabulous. The story is good, choreography is good, and music is good. I am very happy to watch it."
The return of Han Opera glory is a story full of twists and turns. "The Universal Pagoda" is just one of the 600 traditional shows of Han Opera. And its Peking Opera edition is the repertoire of master Mei Lanfang. During the 1950s, it was even made into a film series.
However, the 60s saw the sharp decline of Han Opera performances. Even in its hometown in Hubei Province, there were only two professional art troupes left. And as old masters passed away, the opera was struggling to survive.
But in 2006, it was among the first group of items that were listed as a National Intangible Heritage. And as the government rolls out more policies to protect the country's traditional culture, venues like Wuhan Theater are helping support the revival of Han Opera.
Besides perfecting story-lines and shaping more touchable figures, the singing style is also changing.
Hu Heyan, Han Opera performer, said, "The singing style of Han Opera used to be high and sharp. So I listen to a lot of folk songs and other traditional operas like Peking Opera to see what I can learn from that. Years on, it has made quite much difference."
"The Universal Pagoda" is their first step in a long journey of restoring Han Opera to its former glory.
Editor:Zhang Dan |Source: CNTV.CN