Watch Video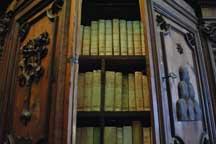 Play Video
Secret Vatican archives are to be shown to the public in a rare exhibition. The archives contain some of the richest historical documents in the world and date back to the 8th century.
The large parchment letter, hung with over 80 pendant seals, was written by members of English parliament to Pope Clement VII in 1530, urging him to annul Henry VIII's marriage to his first wife so the king could remarry.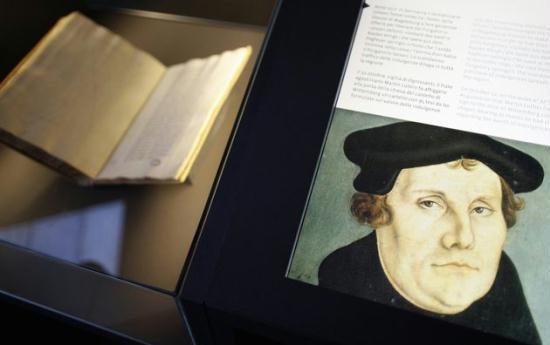 The excommunication of Martin Luther is displayed during the exhibition "Lux in Arcana, the
Vatican secret Archives reveals itself" at the Capitoline Museums in Rome February 29,
2012. REUTERS/Tony Gentile
The letter is just one of a hundred documents that have been released from the Vatican's Secret Archives for display in Rome's Capitoline museum, the first time they have been allowed outside Vatican walls.
Documents in the Secret Archives span the period from the 8th to the 20th century and are stored on 85km of shelving in different sites within the sovereign state. Part of the collection is open for researchers upon request.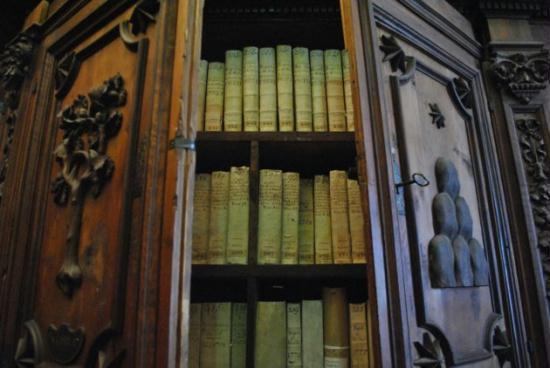 The Vatican Secret Archives on display in Rome. Vatican archives documenting centuries of
European history including Galileo Galilei's trial documents and Martin Luther's
excommunication went on public display for the first time Wednesday. (AFP Photo/Giovanni
Ciarlo)
Alessandra Gonzato, curator of Vatican secret archives exhibition, said, "I think the exhibition will help demonstrate that some of the things that happen today have always happened. And this applies to many aspects of life, be it the religious or the political spheres or the daily lives of people because these documents reveal a cross-section of society ranging from the most humble and simple people to emperors and popes. So I think the documents show that history on the whole is made up of human facts that reoccur always and in every age."
Founded by Pope Paul V in 1612, the archives contain all deeds and documents pertaining to the government of the Church. Though they are known as "secret", the translation is from the Latin "secretum", meaning "private" and referring to the fact that they are the property of the Pope.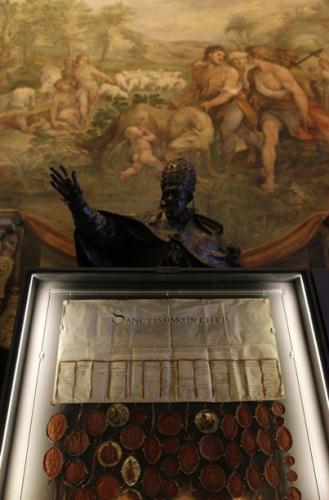 Henry VIII's "Secret Matter" is displayed during the
exhibition "Lux in Arcana, the Vatican Secret Archives
reveals itself" at the Capitoline Museums in Rome
February 29, 2012. REUTERS/Tony Gentile (ITALY - Tags:
RELIGION SOCIETY)
Editor:Zhang Dan |Source: CNTV.CN