Watch Video
Play Video
Renaissance master Leonardo da Vinci started painting his fresco the "Battle of Anghiari" in 1504. But he abandoned the project because of problems arising from his experimental oil painting technique.
On Monday, art researchers said they uncovered evidence that the fresco lost for 5 centuries may still exist in Florence's city hall. Let's check it out.
Maurizio Seracini is an Italian engineer leading the hunt for the "Battle of Anghiari," an unfinished mural by Leonardo. He and his team suspect that Da Vinci's unfinished mural may be hidden under a later fresco by Giorgio Vasari called "The Battle of Marciano."
Seracini announced the first results of technological sleuthing on Monday, saying analysis shows the red, black and beige paint found on the hidden wall are consistent with organic paint Leonardo used for his frescoes.
Prof. Maurizio Seracini said, "We have found this very special black pigment and there are some traces of a red lacquer. The red lacquer is used for oil paintings. And this element matches with Leonardo's plan to paint his Battle of Anghiari with his oil technique."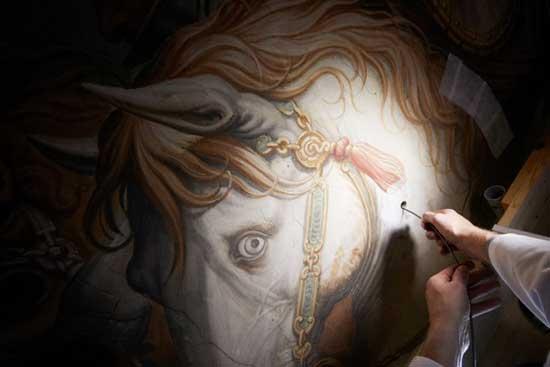 This photo shows an endoscope being thread into the Vasari wall to find signs of the lost
Leonardo painting "The Battle of Anghiari" in Florence's Palazzo Vecchio.
Tiny probes, sent through holes drilled in Vasari's fresco, found black pigment also used in Da Vinci's Mona Lisa.
The research, led by the National Geographic Society and the University of California, San Diego, in conjunction with the municipality of Florence, has been going on for months.
But the research has created controversy in the art world. Some art experts have signed a petition to stop the investigation because the drilling is damaging Vasari's existing work.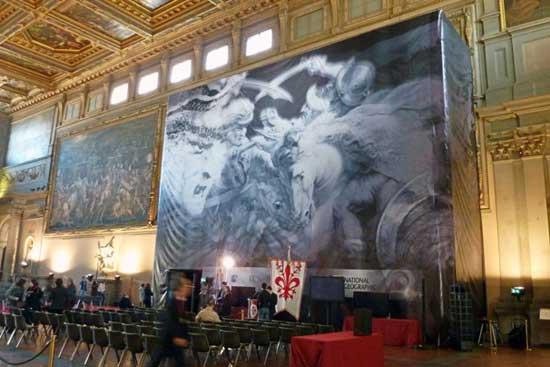 A view of a banner showing the painting which might be hidden behind the Vasari wall on
March 12, 2012, at its location in Florence's Palazzo Vecchio during a press conference.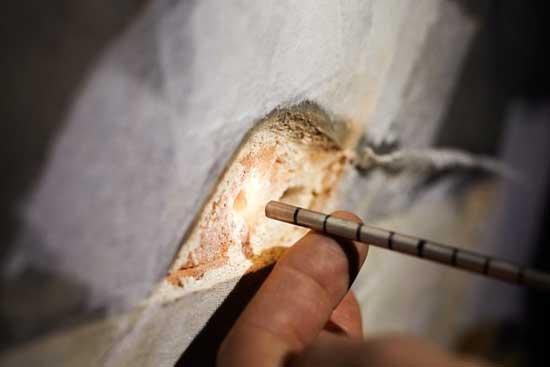 This picture released by the National Geographic on March 12, 2012, shows the endoscope and
sampling tool used to investigate the air gap behind the Vasari mural in Florence's Palazzo
Vecchio.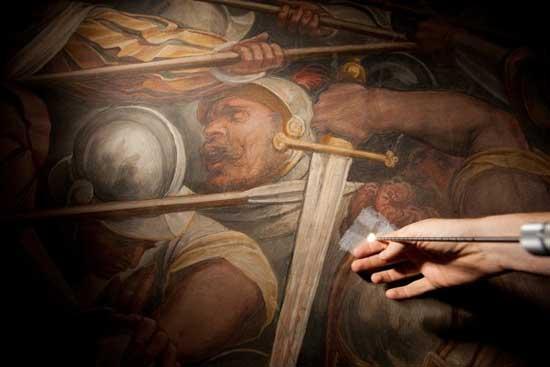 This picture, released by the National Geographic on March 12, 2012, shows a sampling tool
about to be placed into the Vasari wall in Florence's Palazzo Vecchio to extract material
for analysis.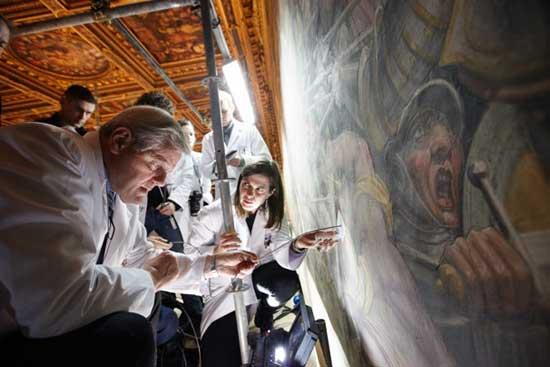 National Geographic Fellow Maurizio Seracini, foreground, and his team viewing footage
captured by the endoscope behind the Vasari wall at Palazzo Vecchio.
Editor:Liu Fang |Source: CNTV.CN