Watch Video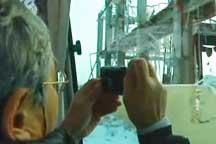 Play Video
The earthquake and tsunami last year obliterated the fishing town of Minamisanriku. But now tourists are returning to the picturesque bay to get a sense of the catastrophe and its consequences.
This looks more like a war zone than a holiday destination. A year before, the devastating earthquake and tsunami struck Japan's Minamisanriku, claiming 1,200 lives.
Now the small fishing town is playing host to tourists. Out of their coach window, shattered buildings stick out like skeletons from the snow-covered wilderness.
After touring the ruins, the bus stops in front of a ghostly three-storey iron frame that was the town's Emergency Control Centre, where workers desperately sounded out warnings of the coming tsunami.
As the bus weaves through the deserted streets, the only other human inhabitants to be seen are construction workers, and volunteers bussed in to clean away the rubble.
Tourist Mika Yamanaka is here to get an emotional understanding of the experience.
Mika Yamanaka said, "It was hard to watch it without a handkerchief because I was shedding tears. I was looking at it and imagining what it must have been like to have been here one year before and it was really shocking for me."
Minamisanriku's reconstruction plan extends 10 years into the future. It will not be rebuilt on the same place but on three areas of high ground around the town. Also to help people better escape from future tsunamis, the town plans to widen evacuation routes and increase the number of elevated shelters.
Related stories
Editor:Liu Fang |Source: CNTV.CN