Watch Video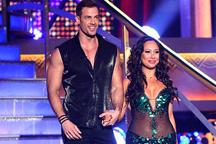 Play Video
With the new season of the American show "Dancing with the Stars", Welsh opera singer Katherine Jenkins, American actor Jaleel White and Cuban-American telenovela superstar William Levy topped the bill on Monday night.
A night of dancing and passion, for stars like William Levy, the US "Dancing with the Stars" show is a very fresh experience.
William Levy, one actor, said, "Yes, for me it's an incredible experience. I've had ten days of training and now I'm learning how to polish everything. What I want to get out of this show is to enjoy myself, and to do it all very well."
Donald Driver dips partner Peta Murgatroyd on the
opening night of Season 14 of 'Dancing with the
Stars,' March 19, 2012.
But it's no easy ride, singer-songwriter Gavin DeGraw was criticized by Judge Len Goodman for his lack of "musicality".
Gavin DeGraw said, "I like that the musician gets the 'musicality' comment. That's my favorite. That's awesome."
The closeness of the dance duos always gets tongues wagging. Opera star Katherine Jenkins said there'd be no dirt for the press to uncover on her strictly professional relationship with dancer Mark Ballas.
Mark Ballas said, "Just, hopefully, great dancing."
Katherine Jenkins said, "Hard work."
While Ballas said, "Keeping up the standards. It's hard work but a lot of fun. We have a lot of fun together."
Jenkins also said, "And every time he touches my knee it does not mean we're getting married." Ballas also agreed.
And what of the prize that they're all chasing? A mirror ball awaits the winners. But for these successful actors and singers, it's the prestige and the publicity that really counts.