Watch Video
Play Video
Some iconic works of contemporary art were previewed in Los Angeles on Wednesday. Classics by Roy Lichtenstein, Andy Warhol and Alexander Calder were on show, as Sotheby's presented highlights of its upcoming New York contemporary art sale in May.
The cornerstone of the auction is Lichtenstein's "Sleeping Girl," expected to sell for between 30 and 40 million dollars.
The Head of Contemporary Art at Sotheby's, Tobias Meyer, says it's one of the most iconic pieces in Lichtenstein's portfolio.
Tobias Meyer, Sotheby's head of Contemporary Art, said, "One always talks about the Lichtenstein girls and that's why this painting is so important. It's also from the early 60s, which is his most important period of work where he really broke out into the world with his pop language that made him so famous."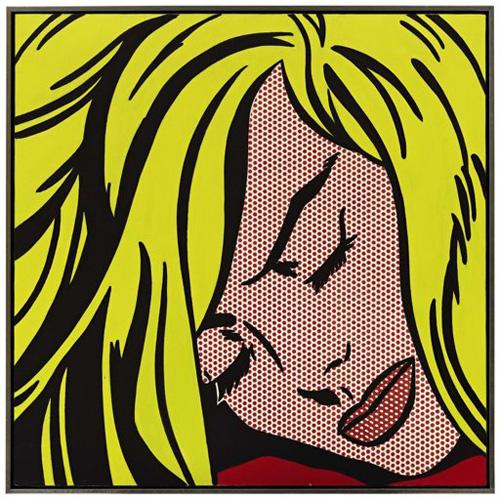 Roy Lichtenstein's comic book-inspired painting "Sleeping Girl," is seen in
this undated Sotheby's handout photo released to Reuters February 24, 2012.
The painting is expected to fetch up to $40 million when it is sold at
auction in New York in May, Sotheby's said on Friday. The 1964 close-up
painting of a sexy blonde woman is part of a series by Lichtenstein and
considered one of the great works of post-war American art.
A metal and wire hanging sculpture by Calder is expected to fetch 2.5 to 3.5 million dollars.
While an "Untitled" oil and collage work by Willem de Kooning is predicted to attract bids of between 4 and 6 million.
A highlight of the sale is a picture of Elvis Presley by Warhol, entitled "Double Elvis." Created from silkscreen ink and spray paint on canvas, the work should fetch between 30 and 50 million dollars.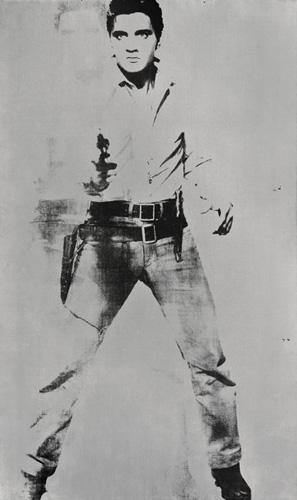 This undated image provided by Sotheby's shows
Andy Warhol's portrait of Elvis Presley
depicted as a cowboy. The painting, with a
silver background, "Double Elvis [Ferus Type]"
is estimated to sell for between $30 million
to $50 million at Sotheby's in New York
on May 9, 2012.
It's extremely rare for one of Warhol's "Elvis" pieces to come up for sale, as most are held by museums or are already in private collections.
Tobias Meyer said, "He was obsessed with Elvis and he obsessed with stars. He painted Marilyn, he painted Liz, he painted Jackie, but Elvis was really, I think, the one that he identified with."
Also on display is a work by Pablo Picasso, "Tete de Femme." It will be sold in Sotheby's Impressionist and Modern Art sale and is estimated at 4 to 6 million dollars.
Joan Miro's "Tete Humaine," meanwhile, is predicted to sell for between 10 and 15 millions dollars.
Sotheby's contemporary sale will be held in New York on May 9th, with the impressionist and modern art sale on May 2nd.
Related stories
Editor:Bai Yang |Source: CNTV.CN