Watch Video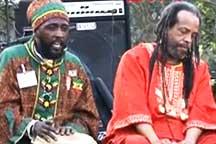 Play Video
Rastafarians from across the world have gathered in the Ethiopian capital, Addis Ababa, for their annual Exodus festival. The event aims to promote Rastafarian culture, and spread awareness of the religion and unique lifestyle. Tom Walsh reports.
The melodic beat of reggae music, it can only mean one thing - Rastafarians. But if you think the heart of this community is the Caribbean or West Indies you'd be wrong. It's here in Addis Ababa where Rasta's from across the world have come to gather in Ethiopia, their spiritual capitol.
Giulia Bonacci, researcher, said, "Ethiopia represents a land where god dwells and so my quest was a quest for God and I found God in Ethiopia"
Giulia Bonacci is a researcher based in Addis Ababa. A Rastafarian herself she's been documenting their resettlement here to Ethiopia, a place they consider to be the promised land:
Giulia Bonacci said, "The Rastafarian community is very unique in the sense that it is the only foreign community who decided to settle at what could be called the lowest social class level of Ethiopian society."
Ras Hailu Tefari is an artist originally from the small island of St Vincent in the Caribbean.
Ras Hailu Tefari said, "This is my favorite piece because it has a lot of power."
He became a Rasta at a young age, and now makes a living producing paintings uniquely made from banana leaves.
Ras Hailu Tefari said, "It's amazing material, I'm very obsessed with it."
Like all Rastas, Tefari puts great emphasis on one of Ethiopia's previous rulers, Emperor Haile Selassie, whom they consider to be God incarnate.
Ras Hailu Tefari said, "I read the Bible and I found him in the bible, not your reggae music because if somebody taught me about Haile Selassie it's not easy to defend the faith, you have to find him yourself."
Like the iconic figure Bob Marely, Ras Kawintseb has traveled the world using his music to educate and inform others about his faith:
Ras Kawintseb, Rastafarian musician, said, "Music doesn't convince or convert you it softens you, it flows into you slowly like a stone that's very hard but if it's really kept in water long enough it might find a way."
CCTV's Tom Walsh said, "Events like these go to show it's a lot more than just Bob Marley and dreadlocks, this is an established Rastafarian community with its own set of ideals and beliefs, contributing skills and a lot more to society."
The annual Exodus festival here is a chance to showcase the Rastafarian way of life. Like Ras Kawinsteb's music its aim is to unite Rastas through a common appreciation of their culture.
Ras Hailu Tefari said, "It's no longer confined to one group or one race or one cultural approach, all these cultures, races peoples languages are meeting here in Ethiopia, that's also prophetic and when they meet they realize it is progressing, prospering and growing."
Editor:Liu Fang |Source: CNTV.CN