Watch Video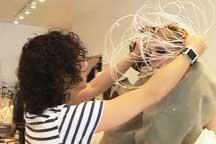 Play Video
There was a time when the cream of Canada's design talent would leave the country, lured by Europe's fashion capitals and the wealth of emerging markets like India and Brazil. But now a new breed of young Canadian fashion designers is determined to make its mark on the domestic scene, convinced Canada can become the new capital for sartorial showmanship.
A haute-couture dress.
But this hasn't been designed in Paris or London. It's from Toronto.
It's the work of 21-year-old fashion designer Adrian Wu - part of a new breed of bright young Canadian fashion designers.
Like many of his contemporaries in Canada, Wu dreams of one day working with some of the great fashion houses of Europe like Chanel or Christian Dior.
Adrian Wu, Canadian fashion designer, said, "I'm at a point in my life right now where I have no idea, you know, where I'm going to be in even six months or a year. I think I've done so much with my career and spent so much money that, you know, it's make it or break it, put it that way. So, I guess I'm still waiting for my big break."
Many Canadian designers start out at home but eventually move abroad to get a head start, often returning only once they've reached global prominence.
But when it comes to haute couture, Canadian designers face a challenge, because most consumers in the country spend money on European designs.
Canadian fashion design accounts for a fraction of one percent of the global market. But by developing skills and networking, young Canadian designers may be looking at a brighter future.
Robert Ott, chair of Ryerson School of Fashion, said, "The energy that comes from young creative minds is that anything is possible, so why should anybody tell them differently? It is a competitive business. It's a tough business. It requires a lot of work, a lot of dedication."
Canadian designer Alexandra Fox founded the Complexity Project, a documentary with a goal to help top designers in Ghana access North American markets with their colourful fabrics and designs.
Alexandra Fox, founder of The Complexity Project, said, "Europe is known for high fashion, the States is known for kind of mass production fashion, and I'd like Canada to be known for socially conscious fashion that's not just catching on to that trend of environmentally friendly or organic sweatshop-free clothing, but actually pushing the boundaries of what's possible."
It looks like Canadian designers might be on the rise, in their attempt to captivate consumers' attention around the globe.
Editor:Liu Fang |Source: CNTV.CN