Watch Video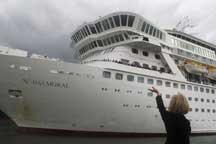 Play Video
Titanic enthusiasts, survivors' descendants and historians have set sail on a memorial cruise to the site of the sinking of the Titanic. More than 1,300 passengers are on the trip to commemorate the 100th anniversary of the disaster. CCTV's Richard Bestic reports from the ship's departure point in Southampton, England.
The Balmoral here is following the path exactly of the Titanic when she departed on her doomed maiden voyage on Easter Sunday a hundred years ago. These passengers expect to be at the exact point in the Atlantic at the exact time the Titanic struck an iceberg. And although some would say the cruise is tempting fate?those on board all had their own reasons for remembering. Among them the grandson of a survivor.
Philip Littlejohn, grandon of a Titanic survivor, said, "My grandfather sailed on Titanic, has a first class, a survivor on life boat 13. It would be going back, recreating the voice that you did."
Many of those embarking were in costume dress like Mary Beth and Tom Crocker Dearing here ho dressed for the occasion. Recently married they're celebrating a Titanic honeymoon.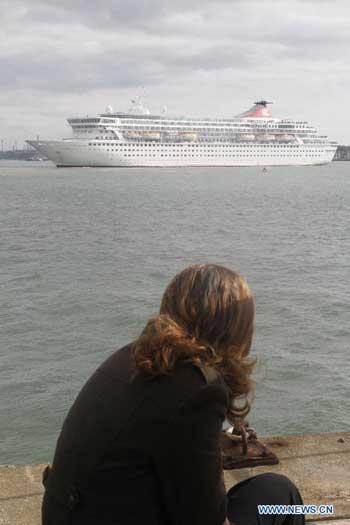 A woman sees off the Titanic Memorial Cruise ship "Balmoral"
in Southampton, Britain, April 8, 2012. The cruise ship
carrying 1309 descendants of some of the victims as well as
survivors on the "Titanic" set sail here on Easter Day, to
retrace the doomed liner's route on its maiden voyage 100
years ago. (Xinhua/Bai Xu)
Mary Beth Dearing, passenger, said, "We wanted to dress up today, because again we wanted to honor and respect the people who were on the Titanic before us. We thought it would be great fun to dress liked they dressed."
The Titanic's cruel end is also being marked in Belfast where a new $150 million dollar museum has opened. It displays some of the splendour in which the rich and famous of first class enjoyed their journey before disaster struck. For their tickets, costing up to $9,000 dollars, Balmoral passengers will remember those days of ocean going indulgence with menus from the Titanic and special lectures.
CCTV's Richard Bestic said, "She's off, safely and reassuringly with a full complement of life boats. The cruise company that organised this whole thing confident that the Balmoral will make it to her destination? Unlike the poor old Titanic."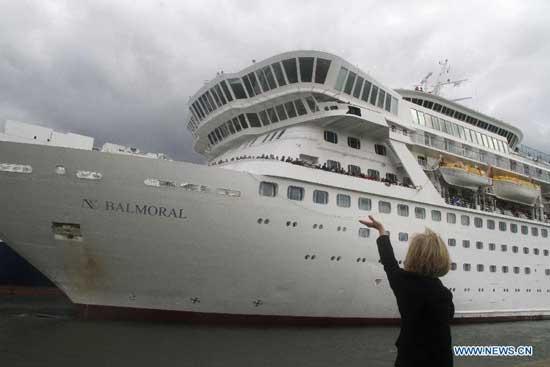 A woman sees off the Titanic Memorial Cruise ship "Balmoral" in Southampton, Britain, April
8, 2012. The cruise ship carrying 1309 descendants of some of the victims as well as
survivors on the "Titanic" set sail here on Easter Day, to retrace the doomed liner's route
on its maiden voyage 100 years ago. (Xinhua/Bai Xu)
Editor:Liu Fang |Source: CNTV.CN