Watch Video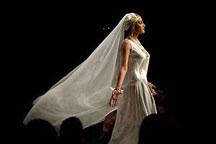 Play Video
The second edition of Islamabad Fashion Week, autumn and winter 2012 has begun. The venue of the grand event is the Pak-China Friendship Center, a platform with a reputation of promoting cultural activities. The next generation of designers from across the country brought magnificent colors to the federal capital.
The fashion week is organized by the International Pakistan Fashion Council, World Fashion Organization and Europa Regina with support from the Trade Development Authority of Pakistan.
The creative consultant for the event is veteran stylist Tariq Amin who insists that Pakistan has now made its place in the world's fashion map.
Tariq Amen, fashion guru, said, "I think the more work there is, the more work there is for the industry the more competition is there, everybody can go on to any platform that they want to and this is an opportunity for the young, new and upcoming designers as they are the future."
Young and enthusiastic designers showcased their lines alongside top designers of the country, which they say, gives them an opportunity to learn and compete professionally in the field of fashion.
Faraz Ahmed, upcoming designer, said, "It is a good boost for our new young, talented designers. It is a chance to promote your designs."
Erum, Fahion designer, said "From the manufacturing of the fabric, to the printing and from the crunching of the fabric, I did it all myself."
This time Islamabad Fashion Week has invited over thirty visiting buyers from Europe, Ireland, Australia and the United States amongst other countries.
14 designers from across Pakistan and overseas will showcase over twenty collections in the three day period.
The fashion week has hit the federal capital with a lot of razzle-dazzle. The overall ambiance of the show remains quite imaginative and creative.
The young designers believe that collaboration of local and international designers on such a platform will surely bring the Pakistani designers to an advanced level of creativity and boost their morale to compete internationally.
Editor:Zhang Hao |Source: CNTV.CN